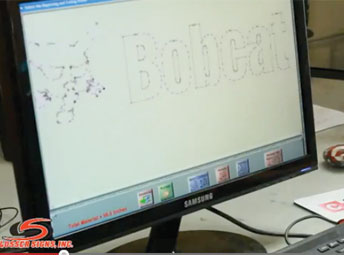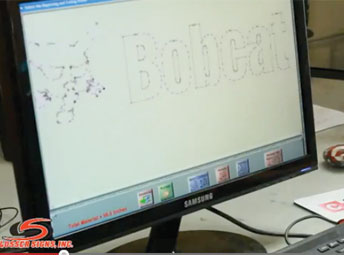 With over ten years under her belt, Carla Schlosser, CEO of Schlosser Signs, Inc., knows what it takes to run a successful sign shop. But she acquired her business acumen through an uncommon avenue — homeschooling four children.
"I was teaching classes as a member of a large homeschool community, and we all had to do our parts," Schlosser says. "I kind of looked at [homeschooling] a little bit like a small business, as far as what you have to set as goals, and what you're hoping the result is." She says those concepts readily transferred over to managing both production schedules and staff.
Carla, her husband T.J., and his brother Bernie Schlosser founded the family-run shop in 1999. As it grew, T.J. and Bernie were increasingly busy installing signage, and Schlosser saw the need to step up her role in the company and apply those management concepts within a whole new arena. "These two men were out there, working all day long, but there was no one to really take care of the other part of the business," Schlosser says.
At first, she pitched in "a little bit," but Schlosser soon found her role as business manager expanding, as her homeschooling duties gradually tapered off. "I found out really fast that I was good at it, and I really enjoyed it, and it was a good fit."
Schlosser doesn't climb trucks, install, or manufacture signs. Yet, her work in developing effective business processes for the shop constitutes "a different side of the sign business." Yet, a side so vital that Schlosser stepped into the position of CEO in 2007.
The more intensively Schlosser delved into the business, the more she learned to circumvent potential pitfalls. Additional training from a business and sales coach helped to grant her and her sales team a new perspective, as well.
An example of Schlosser's grasp of the business is when she tackled a pernicious issue for many sign shops—doing free design work in the hopes of closing a sale. "I started doing the math and tracking it for about a year in 2004," she says. Her conclusion: "We don't have to pour thousands and thousands of dollars into designs just to hand them over and then [have nothing happen]."
The shop has since blossomed into a thriving operation with 23 employees and an assortment of independent contractors to meet the shop's production quotas. But the success didn't come overnight.
In fact, Schlosser recalls the family business' milestones from the very start in 1999. After one year, the couple moved out of their home office and leased a facility, also hiring non-family staff members for the first time.
Over the next eight years, the company leased additional space, and in 2003, added a production department. In 2009, the couple purchased their own building. "We didn't realize what kind of an impact [that purchase] would have on our business from the aspect of marketing and the press releases, the media, and the attention," she says. "It just seemed like from that point on, we were viewed in the community, and at large, as a more professional company."
But then the Recession tested the family-owned business. Schlosser kept her focus on the business and told her sales force to look for other markets to compete in that would keep the shop afloat. It worked.
Today, Schlosser continues to strive to improve productivity and efficiency. "I don't know that that ever ends, really," she says. "It's still a process, and I think it will be ongoing forever."
For more information on Schlosser Signs and its work, check out "Built-in Channel Letter Appeal" by Jan Fletcher on p 48 of our April issue.
Photos courtesy of Schlosser Signs, Inc.