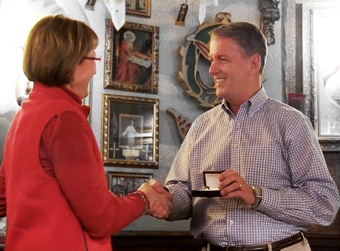 Creative Banner Displays kicked off the new year by announcing the 2014 Sales Person of the Year Award at their first annual award ceremony held in Maple Grove, Minnesota. The award recipients receive a ring that symbolizes accomplishment, appreciation and honor.
Receiving this award was Rosemary Dingmann, a Creative Banner Sales Rep for Minnesota, North Dakota, South Dakota, Iowa and Nebraska. Rosemary held previous roles within Creative Banner before settling into her sales position. She's already over 50% of her budget for 2015, right on track to winning this award again.
Kevin Walsh, Creative Banner's Senior Vice President of Sales and Marketing stated, "Rosemary has redefined who Creative Banner is and repositioned us as a partner. She's resurrected her territory with her efforts in connecting with our customers, all while demonstrating the core values of Creative Banner. We're fortunate to have her on our team."
The Sales Person of the Year Runner-Up was awarded to Tom Jungroth, who shares Rosemary's territory.
For more information about Creative Banner Displays, please visit their Web site www.creativebanner.com.