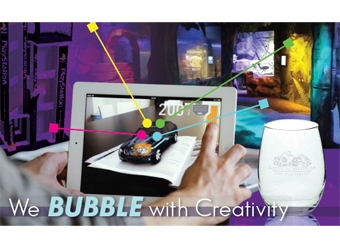 As North Texas creative and design agency the Bubble™ enters its seventeenth year in business, the company has plenty of linchpin client campaigns to reflect on—from the College Football Playoffs, Super Bowl XLV, the NBA, Texas Rangers and the Crowne Plaza Invitational to Six Flags, Sony, Kraft, Axe, and Levi's—but more importantly, a host of highly-visible projects to be announced in 2016.
The Bubble's scope of design, project management, signage, wraps, and banner programs is but a brush stroke of its capabilities. The company's tailored approach allows it to remain versatile in fulfilling roles beyond the one dimensional ad agency, sign shop or project management firm—in turn making it a "hybrid agency" able to accomplish customized needs in a variable of sizes. The company's large scale work has been seen by hundreds of thousands of sports fans at AT&T Stadium, thrill-seeking enthusiasts at
Six Flags Theme Parks and Hurricane Harbor, and most recently at Dallas Sea Life Aquarium.
The visual communication the Bubble has provided for its clients over the years has been integral in successfully boosting traffic and representing a brand's messaging—from experiential media to wrapped rollercoasters.
"We've relied on the Bubble to design, produce, install and manage many of our 'Domination' programs,'" states John Gray, VP Corporate Alliance Marketing and Promotions, Six Flags Entertainment. "Their team has always been responsive, on-time and fast to deliver."
WBE & HUB certified, the Bubble's leadership consists of the husband and wife team of Jeff (Managing & Creative Director) and Amy Naukam (President & CEO).
"Though we work on projects of all sizes, it's very exhilarating to see the fruits of our labor in highly visible places such as AT&T Stadium in Arlington, Texas," states President and CEO Amy Naukam. "It reminds us when we think big, we accomplish just as big."
The Bubble is currently preparing for its most successful year in 2016 with upcoming partnership announcements within community and major sporting events.
For more information on the Bubble, visit http://bethebubble.com/ or their social networks: https://www.facebook.com/the-Bubble-274544155894362/ and https://twitter.com/be_the_bubble.