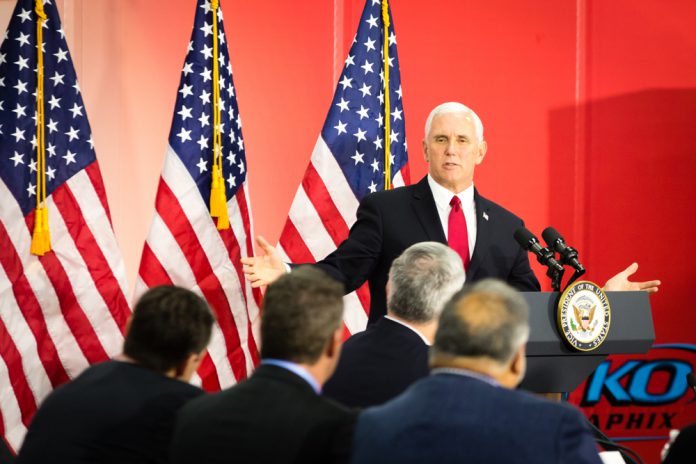 Labor Secretary Alexander Acosta, Senator Todd Young, and Indiana Governor Eric Holcomb joined Vice President Mike Pence for a round table discussion about tax reform with Central Indiana business owners at TKO Graphix in Plainfield, Indiana.
The round table was focused on what tax reform means to the American small business owner and to the American worker. Host Tom Taulman, CEO of TKO Graphix said, "Tax cuts will improve the quality of life for our 260 employees and give the company a little bit of financial cushion, allowing for expansion."
Vice President Pence thanked TKO Graphix and commented on Tom Taulman's remarks, "The opportunity for business tax cuts is the opportunity for businesses to invest more in wages," Pence said.
Secretary Acosta added, "From my perspective tax reform is really about job creation."
Several business owners shared how tax reform would positively impact their businesses growth, and job creation.
A standing room only crowd of more than 250 enthusiastically agreed with Vice President Pence when he concluded his talk by saying, "Tax reform isn't a Republican thing, and it's not a Democratic thing, it's an American thing."
TKO Graphix offers a full range of large format graphic services — including digital and screen printing for fleet graphics and vehicle wraps, graphic installation and removal, and graphic design. TKO Graphix, located in Plainfield, has been in business for thirty-two years and is proud to be a 3M™ MCS™ Warranty provider.