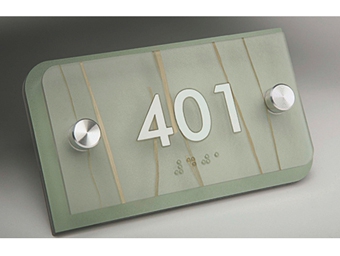 Photopolymer has become the go-to technology for several types of GSA signage, especially any that must be ADA-compliant. The versatility and durability of Nova Polymer's NovAcryl material has made photopolymer the first choice of many signage fabricators, designers and contractors, and a key reason why the GSA has selected Nova Polymers as a qualified vendor.
"The vast range of GSA property requires an incredible number of ADA identification signs, directories, and maps," said Bob Greenberger, Director of Sales and Education at Nova Polymers. "GSA certification opens up many opportunities for sign companies to access new markets while raising awareness of the superior advantages photopolymer signage can offer federal facilities."
GSA certification is an important asset for providers of sign systems that require regular replacement due to routine wear or that need periodic updating. For signage companies, having access to approved materials from listed companies ensures consistency of product and helps ensure timely, accurate bidding.
Designers and fabricators who would like to work on government projects have a straightforward path to using Nova Polymers's GSA certification to their advantage. When responding to a GSA RFP, include Nova Polymers as the lead supplier along with the GSA DUNS number 152325796 along with the CAGE number 7WA95 (for Nova Polymers). This identification will make it easy to find in the GSA database and call up support references.
"GSA certification presents a lucrative opportunity for sign companies that have, or are adding, photopolymer technology," said Greenberger. "For example, federal, state or municipal buildings are one of many areas that can lead to increased expansion of projects and opportunities. Moreover, GSA certification opens doors to revenue that a designer or fabricator may not otherwise be aware of."