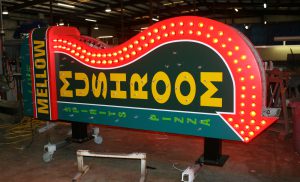 The owner of a Mellow Mushroom in Nashville, Tennessee was looking for a blade sign design to enhance the Nashville Historic District/Broadway Street theme of neon, flashing lights, and retro attention-seeking signs.
They turned to Don Bell Signs of Tampa, Florida, a full turnkey sign manufacturer that has been specializing in custom signage for over sixty-five years. They are one of the largest electrical custom sign companies in the southeast. The company goes beyond design and engineering to offer superior customer support including permit acquisition, project management, and post installation and maintenance.
For this project, Don Bell Signs designed and crafted a 10-3/4-foot-by-5-foot-by-1-1/2-foot double-face neon blade sign constructed of aluminum components over a steel frame. They used Adobe Illustrator CS6 to design this vibrant identity piece.
The illuminated cabinet consists of a colorful array of red, white, blue, green, and yellow neon elements that help emphasize Mellow Mushroom's theme of "fun" and "funky."
Meanwhile the chasing arrow LED bulb rows feature the use of a modern digital controller to turn on from tail to point then turn off and recycle with a three-second interval between stages.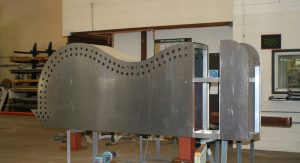 3M vinyl was applied for the copy to economically represent the vintage porcelain painting process, and it was finished with a Matthews polyurethane coating.
The finished sign was bolt-attached to the existing brickwork of the second floor of this Mellow Mushroom.
By Mandy Moore
Photos: Don Bell Signs