With lightweight, one-hand maneuverability, the KL-2040 Throatless Shears from Kett Tool offer superior performance with complex cuts, both straight and curved, in cold rolled (C.R.) mild steel and stainless steel. The KL-2040 features a straight handle motor that makes this level of maneuverability possible.
"The KL-2040's flexibility and ease of use makes it a big time-saver on the job, and that's why it is such an indispensable tool across many types of metal work," said Kathy Conlon, president of Kett Tool Company.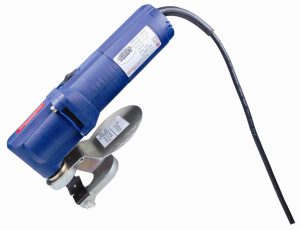 The KL-2040 is popular with metal fabricators and airplane, bus, car and truck repair work. It's clean, burr-free cut saves operators from mess and clean up on the job site.
It cuts 13-gauge C.R. mild steel and most grades of stainless to 15-gauge, at over 220 inches per minute. With its 4-amp straight handle motor, it weighs only 7 pounds.
Each of two indexable carbide cutting blades have four cutting edges for prolonged tool life and are easily adjustable for various workpiece thicknesses.
The KL-2040 Throatless Shears are available through authorized dealers. For more information or to locate a dealer, visit (513) 271-0333 or www.kett-tool.com.