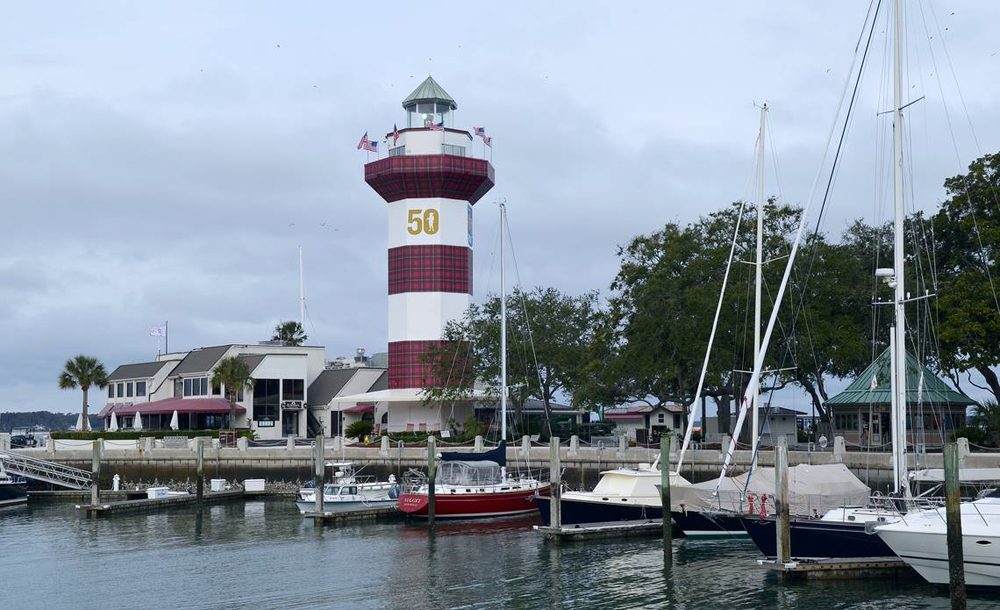 Celebrating fifty years is a major milestone. The official fifty-day countdown to the RBC Heritage Presented by Boeing golf tournament, scheduled for April 9-15, kicked off on Sunday, February 18, in Harbour Town. The Lowcountry celebrated in truest Plaid Nation style at a special "Countdown to 50" party hosted by the Heritage Classic Foundation. The highlight of the event wasn't the food; instead the focal point was Hilton Head Island's historic lighthouse, which now features the tournament's traditional plaid in celebration of the RBC Heritage's fiftieth anniversary.
On February 5, locally based printing company Kennickell Printing began installing plaid printed ORAJET® 3954 Brick Stone vinyl on the lighthouse, which will remain decked out in plaid throughout the tournament week. The ORAJET® brand is manufactured by Savannah, Georgia-based, ORAFOL Americas Inc.
"We are incredibly proud of where this tournament started, how far we've come and where we stand today," said Tournament Director Steve Wilmot. "To think we are about to embark on our fiftieth tournament is the greatest honor. The longevity of the RBC Heritage speaks to the undivided support and commitment of our fans, volunteers, sponsors, partners, trustees, golfers, and community members.
"The plaid lighthouse [are] a sight to see—you won't want to miss it, and we encourage everyone to share it on social media to promote the iconic symbol of Hilton Head with the hashtag #plaidlighthouse!"