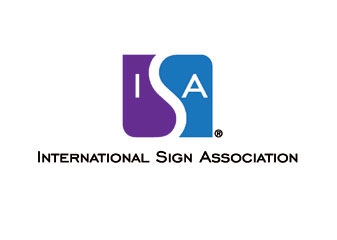 The ISA International Sign Expo 2014 always offers a prime opportunity to see the latest products for the on-premise sign and visual communication industry. This year, some of those products will be on display, enhancing the show experience throughout the Orange County Convention Center's South Hall.
"Each year, ISA International Sign Expo earns rave reviews from attendees about the look and feel of the show," said Lori Anderson, ISA president and CEO. "We could not do this without participation of our in-kind sponsors who help create this amazing experience. As an added bonus, attendees get to see real-world applications of these products."
Attendees can explore:
AlumiGraphics outdoor clings, both on the ground and columns;
ClearFocus Imaging window clings throughout the convention center;
Continental Grafix directional floor stickers inside the concourse and at the show floor entrance;
Daktronics: digital screen video wall;
GBC & Seal 'You are here' floor locators;
Howard Industries directional boards;
Radiant Mfg DJ booth in the main foyer;
REXframe lightbox registration frames;
Samsung Electronics America digital screens in the Dynamic Digital Park;
SloanLED lighting in The Hub;
Texture Plus stone/wood façade at the Biergarten entrance;
Top Value Fabrics backlit fabric used on Rexframe's frames;
Vantage LED charging stations.
ISA International Sign Expo 2014 will be April 23-26 at the Orange County Convention Center, South Building, in Orlando, Fla. Visit www.signexpo.org to learn more about the event.