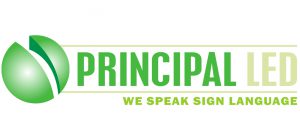 Principal Lighting Group, LLC, a leader in LED-based sign lighting solutions, announced the addition of three patents relating to LED assemblies designed for use in conjunction with existing light support structures, such as those originally designed for fluorescent lamps. U.S. Patent No. 9,851,054 relates to Principal's market-leading Stik™ family of "direct-connect" retrofit assemblies. Principal's Stik™ products represent the simplest and most comprehensive solution for outfitting T-12 fluorescent sockets with LED lamps in commercial signs.
Principal has also acquired U.S. Patent No. 9,311,835 and Canadian Patent No. 2,759,366, which relate to retrofit assemblies and methods that employ end caps between the extruded support module and the existing socket.
Principal's retrofit patents give Principal the right to license its market-leading technologies or prohibit others from making, selling, using, or importing infringing products and processes through 2030 and beyond.
"These issued patents further increase the commercial opportunities for Principal Lighting Group. All three patents cover market-preferred retrofit configurations that and enhance our position as a market leader in the North American sign industry," says owner J. Bryan Vincent, Ph.D. "As we continue our growth journey, Principal will continue to actively protect and grow our market share. Customers and end users now have the added the added confidence of patent protection for our industry-leading retrofit solutions."