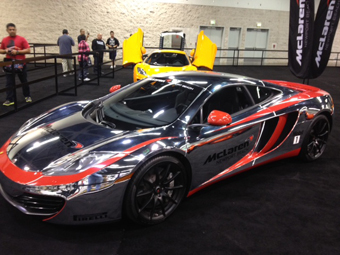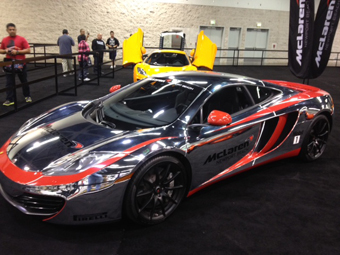 Avery Dennison announced today that it is expanding the range of colors offered in its popular Supreme Wrapping Film line by adding 13 new matte and brushed metallic colors. Avery Dennison Supreme Wrapping Films are used to change the color of vehicles or create partial wraps, providing a finish similar to paint for vehicles and trucks.
New Avery Dennison Supreme Wrapping Film Matte Metallic and Brushed Metallic colors include:
Brilliant Blue Matte Metallic
Brushed Aluminum
Charcoal Matte Metallic
Brushed Bronze
Frosty Blue Matte Metallic
Brushed Black Metallic
Garnet Matte Metallic
Brushed Steel
Green Apple Matte Metallic
Brushed Titanium
Gunmetal Matte Metallic
Night Blue Matte Metallic
Purple Matte Metallic
"The Avery Dennison Supreme Wrapping Matte and Brushed Metallic Films color choices and overall appearance are awesome," said Dallas Fowler of Digital EFX, based in Louisville, Ky. "The texture of the face films is great, and they offer excellent conformability around curves. We really put the films through the paces and were impressed with how thin yet very durable they are."
The beauty of a color change or paint wrap is that if an individual gets tired of the wrap or a company rebrands, it can easily be removed and the paint on the car will look virtually the same as the day it was installed.
"The 13 new Avery Dennison Supreme Wrapping matte and brushed metallic films can be used for a full car wrap, as accent films, or combined with the existing 33-color spectrum to create two-tone color schemes," said Beth Zanko, product manager, Avery Dennison Graphics Solutions. "We listened to our customers and have created a line of metallic colors to meet growing demand for full color change car wraps."
Avery Supreme Wrapping Films are constructed with a cast color layer and a clear layer, so no overlaminate is needed. They feature Easy Apply RS™ technology which allows the installer to easily reposition and slide the film into place and reduce air bubbles, minimizing the total application time for the wrap.
Metallic films are durable up to six years. The 40 plus colors in the Supreme Wrapping Film product line can be used for wraps, point-of-purchase signage and architectural installations. The films are sold in 60 inch roll sizes providing installers the ability to wrap the hood and sides of the vehicle without seams. In addition, shops can accent their full color change wraps with Avery Dennison's Conform Chrome Accent Film by applying it to special features on the car such as side-view mirrors, striping and door handles.
The new Supreme Wrapping Film matte and brushed metallic colors will be used in wrap demonstrations by world renowned graphics installer, Justin Pate, at the Avery Dennison Booth 12637 at the Specialty Equipment Market Association (SEMA) Expo in late October.