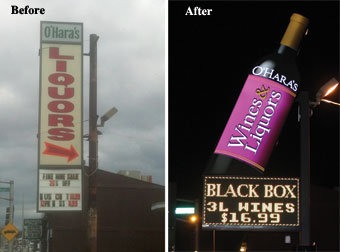 Sometimes one thing can lead to another—especially when it comes to sign fabrication. Just ask Andy Serrato, second-generation owner of custom sign manufacturer & installer Serrato Signs, LLC in Worcester, Massachusetts. What started out as a simple request for an electronic message center (EMC) soon grew into his shop also building and installing a brand-new awning…and a giant-sized wine bottle.
O'Hara's Wine and Liquors is a full-service liquor store that's also located in Worcester, but its plain, fluorescent-lit, pole-mounted cabinet sign had faded. The establishment's owner, Jim Vasiliadis, bought the business twenty years ago but had never changed the sign out. It was time for a fresh look.
So Vasiliadis contacted Serrato. "There were two new liquor stores opening within a one-mile radius," says Serrato, "and he didn't want to get lost."
As mentioned, Vasiliadis originally only requested switching the changeable copy portion of the sign to an EMC. But during his initial discussion, Vasiliadis mentioned how he always thought a wine bottle image would make a cool sign feature.
This sparked Serrato's imagination. "Instead of putting a wine bottle graphic on the sign face, I instead suggested making the wine bottle the sign itself," he says.
Serrato believes that conversation with the customer during the design stages is crucial. "We always try to find out their likes and tastes and who they are as a company," he says. "I often tell them to drive around the city and let me know what signs and awnings they like." (Note: From there, Serrato will meet the customer on location and look at their building to work up signage that will complement it best.)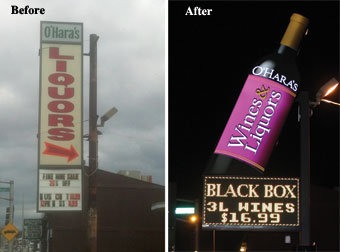 One could say that signage ideas come naturally to Serrato. His father, Louis, started the company back in 1945 out of a garage attached to a one-family cottage. Today Andy has grown the business to its current staff of twelve employees. "We couldn't have done what we've done today without our incredible team here," he says.
On the O'Hara's sign, the design process proved tricky. The idea was to craft the sign cabinet in the shape of a wine bottle and then cover it with a vinyl print.
Serrato researched wine bottle images online and explained to his designer that he wanted it to be positioned at an incline angle—as if it's going off the sign.
However it took a bit of tweaking to get the bottle to look more like a sign. Everything on the bottle appeared dark at first. The solution rested in the top foil. "After back-and-forth discussions about the lack of white on a wine bottle—it's not a bottle, it's a sign!—I came up with the gold top nugget to make it 'pop' more," says Serrato.
The sign frame for the wine bottle cabinet was made from one-inch square tubing and body-skinned with aluminum.
The digital print was output from the shop's Roland printer to a backlit white piece of Lexan where it was then cut to fit the face. "The bottle and the face are flat, so we put a gradient on the digital print to give it a curved look," says Serrato.
The finished wine bottle cabinet measures 44 inches wide and 12-feet, 8-inches tall. Vasiliadis didn't want to use a lot of lamps to light the bottle, so Serrato placed six strands of SloanLED PosterBOX 6500K modules around the interior edge of the sign with the lights facing toward the center of the box.
What's interesting is that while PosterBOX is used to illuminate large areas with minimal modules, they're usually mounted in shallower, thinner poster frames. Serrato credits Ken Davis from Davis Advertising for introducing the product to him and salesman Dave Disaia, Jr., from Garston Sign Supply for convincing him to use it here. "We tried different angles and amounts," says Serrato. "It really lights up brightly."
For the EMC, Serrato contacted his Watchfire LED representative, Ben Barr, and they selected a 16mm unit that measures 41 inches tall-by-6-1/4 feet wide. "[Vasiliadis] originally wanted a four-by-four-foot model, but I explained to him that a wider sign would fit his location and prove better for graphics," says Serrato.
After removing the old sign cabinet, Serrato Signs cut off the top section of the existing pole. "We slid a new eight-inch square steel tube into it and welded it into place," says Serrato. "We then wrapped a pole cover around the pole."
The EMC was installed first and then the wine bottle on top of it. "The square tubing welded to the main pole holds the EMC up," says Serrato, "and another square piece of tubing goes up into the wine bottle. This lined everything up correctly."
Since the wine bottle weighs 300 pounds, an Elliott crane was used to lift the sign while installers in two bucket trucks guided it into place. "One bucket was lined up in front and the other above it, so we could get the wine bottle up against the pole and weld it into place," says Serrato.
While Vasiliadis was pleased with the install, Serrato thought more work could be done to improve the aesthetics of the property—particularly the business's entrance. The owner was using an old metal canopy, so Serrato suggested an awning.
The awning was fabricated from Cooley-Brite material in two sections. "It goes down the building," says Serrato, adding that graphics and text were added through eradication, "and then turns at an angle."
During site surveys, Serrato put some flat stock on the building to get the necessary angle and clamped it into place. "It wasn't a true 30- or 45-degree angle; it was somewhere in-between," he says. "So we custom-made a special bracket and attached it to the building to ensure the proper angle. Then we made the frame."
The awning is four feet tall with a four-foot projection, so Serrato ran four-foot-long white SloanLED HighLINER strands on the back wall three feet apart.
He then placed five strands of white HighLINER within the awning dome—three across the bottom area and two up above it and mounted to the back wall.
Installation of all the signs took place during normal business operating hours. "The sign wasn't really a challenge," says Serrato, "because we were able to set up to the side and not block the entranceway. For the awning, we'd have to stop occasionally and let customers in."
In the end, everyone celebrated the installation of this unique sign solution.
By Jeff Wooten
All photos: Serrato Signs.