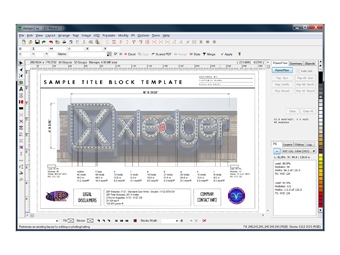 Aries Graphics International announces a new co-marketing and software integration partnership with ikeGPS that focuses on helping sign shops realize the value of using LED Wizard with Spike. LED Wizard is the global leader in LED layout software for the sign industry, and Spike is an innovative signage measurement solution and software that won the 2016 Innovation Award from the ISA International Sign Expo.
This integrated solution enables signage professionals to use LED Wizard with Spike to streamline their workflow of designing and estimating LED channel letters and sign cabinets, saving considerable time and money.
The solution is particularly suited to LED retrofits, where it is notoriously difficult and time consuming to create an accurate estimate. It can be very challenging to capture a good quality, clean, and straight-on photo in addition to measurements while in the field, which leads to guesswork and poor estimates.
Enter Spike, which allows sign and digital graphics professionals to quickly and safely capture measurements for estimates of signage locations from a smartphone or tablet picture and the Spike device. A ladder, bucket truck, and tape measure are no longer required to conduct site surveys and create estimates and designs, saving sign companies time and overhead costs on a traditionally lengthy process.
After capturing a photo of the existing sign using their smartphone and the Spike laser device, the signmaker uploads it to the Spike Cloud and creates a 1:1 scaled and perspective corrected JPG file. This is a very valuable file type that can be imported directly into LED Wizard already scaled and at proper perspective. At that point, the signmaker can use LED Wizard's design and layout tools to match the font, draw various shapes, and/or trace the design on the Spike photo in preparation for LED population.
"This partnership with ikeGPS will bring tangible benefits to our LED Wizard customers worldwide, who are under constant pressure to create accurate estimates quickly," says Jeff Fassett, President of Aries Graphics International. "I've seen some photos and drawings for retrofits passed off as "artwork" that are almost comical, and this causes delays, inaccuracies, and extra expense in the quoting process. But I know that if a customer is using their Spike device to conduct the site survey, the entire process is going to be faster and more accurate."
"We are pleased to partner with such a trusted software provider to the sign and digital graphics industry, allowing us to bring Spike further into estimation processes for sign companies," says Glenn Milnes, CEO of ikeGPS. "Working with LED Wizard and addressing pain points during LED estimation processes supports our mission to create a robust solution for the signage industry."
This integration is now available to users of LED Wizard 7.1. Aries Graphics and ikeGPS will launch and demonstrate the new integration as part of a free webinar taking place at 11 am PDT Thursday, September 7. For more information and to register for the webinar, please visit ledwizard.com/webinar or ikegps.com/webinar.
Find out more at www.aries-graphics.com or call (800) 294-7273 or (805) 642-2650.