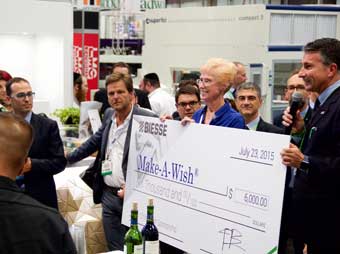 Biesse is excited to announce AWFS 2015, held in Las Vegas from July 22nd to July 25th, was the most successful show to date for Biesse America!
Over 1,000 attendees from 750 companies visited the Biesse booth for demonstrations on innovative technology from affordable, high-quality, entry-level machines up to the most technologically advanced solutions available for panel processing, solid wood manufacturing, plastic manufacturing as well as the production of non-ferrous metals and composite materials. Recognizing the lean and value-oriented needs of today's market, we showcased many new products focused on flexibility, productivity, and lowering operating costs.
"The 2015 AWFS exceeded our expectations and was a record breaking show for Biesse America," said Federico Broccoli, Biesse Group Subsidiaries Division director and president/CEO of Biesse America and Canada. "The show has been one of the most active and rich in content and we have confirmed our commitment to the 2017 AWFS with increased space. We see more and more growth for this event to the caliber of a national one."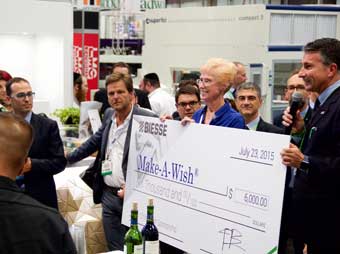 Biesse was also honored to host over 400 people at our Make-A-Wish® Night to launch our "Give" campaign with the foundation. Federico Broccoli kicked off our new campaign by presenting the foundation with a check to sponsor a child's wish, pointing out that while we fight for market share, these children are the real heroes fighting for their market share of life. In addition to the first sponsorship, Biesse is donating $100 to Make-A-Wish for each machine sold at the show and we thank you all for helping us bring Hope, Joy and Strength to children with life-threatening medical conditions.