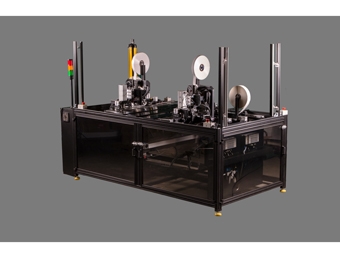 E. L. Hatton Sales Co., maker of Banner Ups BravoTabs® adhesive grommet tabs and BravoTape® single-sided banner hem reinforcing tape, will introduce its new Banner Ups BravoBanner® System, a fully automated banner finishing system, at ISA 2015 in Las Vegas, April 9-11.
Banner Ups pressure sensitive adhesive tabs and tapes allow banner producers to make high-strength reinforced banners quickly in-house without sewing, welding, or grommeting. The new BravoBanner system automates that process, making the Banner Ups system economical for high-volume banner production.
The BravoBanner system automatically applies Banner Ups BravoTabs and BravoTape with a few keystrokes. Dual heads apply tabs and tape simultaneously along the top and bottom edge of the banner and are easily adjustable to accommodate variable widths. With hem taping speeds of up to 80 feet per minute, the BravoBanner system can finish over 100 medium length banner sheets per hour with a single operator, dramatically reducing labor costs. The machine also punches rope holes, and will be available with an optional grommet installation module. The system's efficient mechanical footprint (less than 50 square feet—about the size of a large office desk) and low electricity requirements save on precious floor space and power when compared to sewing or welding systems.
"The BravoBanner System automates the banner finishing process for high volume banner production," explained company president, Rick Hatton, "Surprisingly, as mature as the banner business is, that has never been done in the past. This innovation can shift the entire model for large-scale banner production efficiency and cost." The BravoBanner® system will be on display at ISA 2015, Las Vegas, in the company's booth #2897.
Full product information, video instructions, and tips for use are available on the company's Web site at www.bannerups.com.