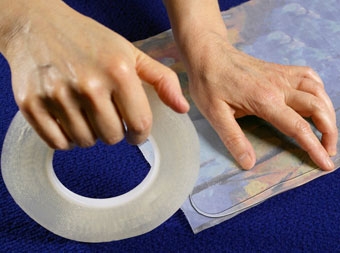 E. L. Hatton Sales Co., maker of the Banner Ups line of adhesive-based banner finishing products, announces introduction of the new Banner Ups TexTape™, a tape designed to make hems on woven and knitted textile banner media without sewing.
Made of a premium grade highly modified double-sided acrylic adhesive, TexTape bonds permanently to most textiles and is durable for outdoor as well as indoor use. Simply apply TexTape on banner edge, remove liner, and fold fabric hem. Printers using Latex or Dye Sublimation printing methods can make textile banners, feather flags, or pennants instantly, in-house, with no special equipment. TexTape eliminates the time, labor, and equipment cost of sewing. This method also eliminates the risk of post-print sewing damage to banners. Available in 3/8-inch and 3/4-inch width, TexTape is applied just like ordinary double-sided banner hem tape, but has much higher adhesion, plus it adds firmness to the banner edge for a much cleaner appearance.
"With the advent of Latex and Dye-Sublimation, textile printing is growing dramatically in the banner business, but until now, there has been no easy finishing method for printers who don't have sewing equipment," explained company president, Rick Hatton, "Using TexTape, any shop can hem textile banners, flags and pennants instantly, in-house without sewing, or sending out for finishing at a fraction of the cost."
E. L Hatton Sales Co. designs and produces Banner Ups Adhesive Grommet Tabs, PowerTabs, and PowerTape products which are used to fabricate strong banners instantly without sewing or grommeting. E. L Hatton Sales Co. products are available worldwide through a network of quality graphics distributors.