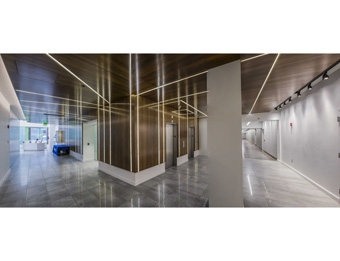 Located in the shadow of Harvard University and the Massachusetts Institute of Technology (MIT), the Sidney Research Campus is a study in new thinking. The three-building, 340,000-square-foot campus was formerly a dated-looking home to one large life sciences tenant. But a recent metamorphosis has transformed it into modern office and laboratory space for a variety of smaller biotech companies.
To support the tenants' breakthrough work, the firm Arrowstreet designed the common areas inside and out to be sleek and sophisticated. In one building, that includes using "visual images" lined with iLight Plexineon White fixtures. Installed so they are offset against the ceilings, the fixtures create a 3D effect in the main floor elevator lobby, as well outside the elevators on each of the building's four floors.
"A big issue was how to make these long, L-shaped corner spaces fun and exciting," says D. Schweppe, principal of Schweppe Lighting Design, Inc., which collaborated with Arrowstreet.
"We talked about creating light slots, an idea the designer originally had conceived. They had imagined two-inch slots," says Schweppe. "If we used Plexineon, we could get a much narrower profile, down to under one-inch.
"We explained that the narrower width would provide more of a highlight than just a light fixture—a better fit with their concept of keeping things clean and elegant."
The challenge was incorporating the fixtures into existing wood paneling.
"There was a lot of coordination between iLight, the manufacturer's representative, the general contractor, and the electrical contractor," Schweppe says. "We needed to be sure everything was installed in the correct order: the ceiling support system, then the Plexineon fixtures, then the ceiling.
"We built a mock up that further revealed ways to get the effect we wanted—where to place the drivers and how the fixtures would sit in relation to the panels. We really wanted them to align or sit back, so there wouldn't be flash off to the side; so we would actually have a line of light, not a blob."
While lines of light were the goal, reflection was considered a plus because it would help create more dimension, Schweppe says. And the quality of the light is just as he expected, after using Plexineon successfully on several other projects.
iLight's service was just as important this time around. Schweppe says, "iLight was very helpful in offering advice and coordinating how we would work within the support system—how to fit things into the channel to ensure the precision needed for the lines of fixtures to be consistent. They also provided the proper hardware to keep the depth consistent. That was a big advantage, and everyone is very pleased with the final result."