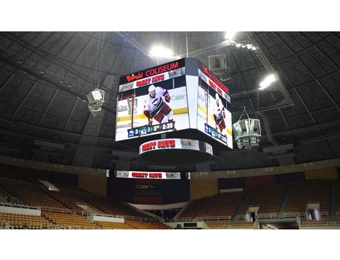 Daktronics (NASDAQ-DAKT) of Brookings, South Dakota, has partnered with the city of Charlotte, North Carolina, to outfit Bojangles' Coliseum with a Daktronics centerhung display system and several other LED video displays. Daktronics designed and manufactured the displays that are currently being installed.
"The new scoreboard serves as an eye-catching centerpiece that will provide guests with an engaging focal point during events and games at the venue," says CRVA CEO Tom Murray. "We're excited how this cutting-edge amenity complements the other elements of the renovation for this sixty-year-old historic venue and know our guests will be thrilled when they see how this display system enhances their overall experience at Bojangles' Coliseum."
The centerhung display configuration will consist of four main video displays, four auxiliary displays and a ring display. The main video displays will measure approximately 12.5 feet high-by-22 feet wide and feature 10 millimeter line spacing. Wide-angle visibility will ensure these displays look great from any seat in the house.
The displays will feature variable content zoning, allowing them to show a single large image or to divide the display into multiple zones filled with any combination of live video, instant replays, up-to-the-minute statistics, scoring information, animations, and sponsor messages.
The ring display included in the centerhung configuration will measure approximately 2 feet high-by-62 feet in diameter and the four auxiliary displays, fitted above the main displays, will measure about 2 feet high and 22 feet wide. These displays feature a 20 millimeter line spacing and will complement the main video displays by showing content such as statistics, graphics, scoring information, sponsor messages, and animations.
The installation will also include four ribbon displays, one in each corner of the arena, measuring approximately 4 feet high-by-59 feet wide. These displays feature 20 millimeter line spacing and provide supplemental content to the main displays as well as highlighting sponsors throughout events.
"We're very excited about continuing to build upon our long-standing relationship with Bojangles' Coliseum and the City of Charlotte," said Corey Williams, Daktronics sales representative. "The new centerhung and ribbon displays coupled with the other renovations that are taking place will greatly enhance the fan experience at this historic building."