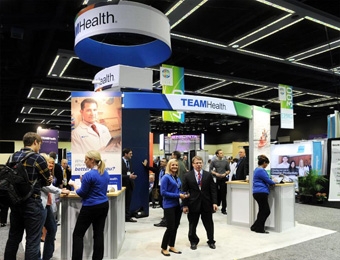 Nimlok, the custom and custom modular division of Orbus Exhibit & Display Group, is proud to announce that Nimlok authorized dealer, Design Display Inc., based in Birmingham, Alabama, won three 2014 Knoxville Addy Awards for exhibits they designed for clients, including two that were designed/built by Nimlok.
The Knoxville Advertising Federation is the local Knoxville, Tennessee branch of the American Advertising Federation (AAF). On February 15, AAF Knoxville announced the winners of their 2014 Addy awards. Design Display, Inc. received three Bronze Citations of Excellence for their exhibits for Bush Brothers, ChoiceSpine, and TEAMHealth.
The 20-by-30 ChoiceSpine exhibit featured a combination of Nimlok modular elements and custom work done by Design Display, while their custom modular exhibit for TEAMHealth was designed by Christopher Munns, a member of the Nimlok exhibit design team.
Design Display Inc., has been in the exhibit business for over thirty years and remains one of the oldest and largest full service exhibit design firms in the state of Alabama. Family-owned and operated, their team includes a talented group of designers, skilled carpenters, and a highly experienced sales team. For more information, visit www.designdisplay.com.
Meanwhile for more information on the Knoxville Addy Awards, including a full list of winners, visit http://www.aafknoxville.com/.