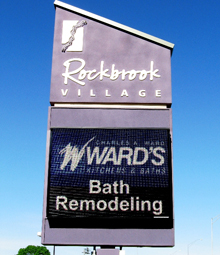 For the owners of multi tenant retail facilities looking to increase foot traffic and customer perception of the businesses located within their facility, adding an electronic message center can be a surefire way to increase business.
Below, two property owners detail the success they found by adding digital signage to their premises.
Rockbrook Village Shopping Center
Rockbrook Village Shopping Center in Omaha, Nebraska was built in 1965 and over the years expanded into 14 buildings with over 70-plus merchants at any given time. Property Manager Zachary Daub details how he incorporated newer, digital signs into the shopping center:
"The issue with a large shopping center with 70-plus merchants is how to adequately provide each merchant with the opportunity to advertise their business while at the same time complying with city sign ordinances and square footage restriction on the total amount of signage you are allowed to have. A sign that was designed in 1965 in terms of site lines and speed of vehicles has obviously changed in the past 50 years. The older static image signs were not very effective anymore and had a fixed number of spaces available.
We began investigating LED signs in 2006 and worked with YESCO Electronics to develop a design and "image cycle" that would work for our needs. In addition, YESCO brought in a sign on a truck that we were able to view from a distance and get feedback from our merchants on as well. With their help we were able to pre-lease the slots on the sign while at the same time quadrupling the number of merchants that are able to advertise on the sign. The signs are extremely easy to operate and any issues we have had have been quickly fixed.
We are presently working on another development in Papillion, Nebraska and are going to incorporate the same YESCO LED signs into that monument sign."
Meadowlark Shopping Center
Property Manager and Co-owner Brad Barber of TDW Properties, LLC has owned the Meadowlark Shopping Center in Lakewood, Colorado since 1999. When over two million square feet of new retail was added within a five mile radius of the shopping center, it had severe challenges in leasing its spaces. Even a major remodeling was unsuccessful in bringing in business. Barber explains how digital signage managed to revive the shopping center:
"In 2004, we purchased a red, monochrome LED message center from YESCO Electronics to place along the highway to help with additional visibility for our tenants. Up to this point, we had only traditional static multi-tenant signs, where all my tenants were represented simultaneously in fairly small, unreadable copy. The message center has allowed me to give more visibility to each individual tenant by allotting them a block of time on the sign where they are the only tenant displayed. This sign was a major part of resurrecting our Center as it immediately gave confidence to the tenants that we still had, and it became a major tool for us in marketing to future tenants.
We enjoyed the message center so much that in 2008 we replace our corner monument sign with a full color message center to help our tenants be more visible to local traffic. The combination of the two signs had been incredible for us and our tenants. By the middle of 2008, we had only one vacancy remaining and the increase in traffic was quite dramatic. I credit a major part of the turnaround at Meadowlark Center over the last few years to the additional visibility these signs have given us. We also just added a full-color message center to a shopping center we own in Kansas to assist in reviving a property that has long been forgotten. I know that the sign will change the local perception immediately."
To learn more about the isntallation of the digital displays at the Meadowlark Shopping Center, view the video below:
Meadowlark Center Case Study from Yesco Electronics.