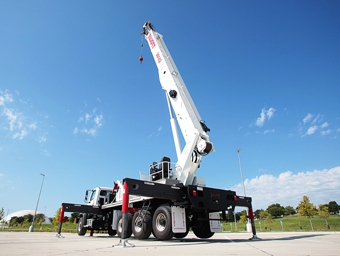 Elliott Equipment Company is proud to announce the release of the new 36 US-ton 36142 BoomTruck telescopic truck-mounted crane model featuring the longest boom available in its class. With a 5-section 142-foot main boom and optional 32-foot to 49-foot two-section jib, the 36142 offers a maximum tip height of 201 feet.
The new model is designed to serve a range of customers including those in the utility/transmission construction industry who have ongoing needs for long-reach telescopic cranes on road legal chassis that can be used for both material handling and working at height using a detachable work platform.
Key Features include:
• 34-foot, 9-inch to 142-foot Extended 5-Section Telescopic Main Boom
• 36-Ton Lifting Rating at a 5-foot Load Radius
• Patented Standup Ride-Around Lower Control Console
• Optional Open Seated Controls or Enclosed Crane Cab with Heater and Optional A/C
• 9,060-pound Single Line Pull Winch with 12,800-pound Bare Drum Pull. Uses 9/16 in Rotation Resistant Steel Rope
• Internally Wired Anti-Two-Block Cable
• 21-foot, 2-inch Span Out-Down Outriggers with Full and Mid-Span Positions/Charts.
• 600-pound Capacity Yoke-Style Pin-On Work Platform with Hydraulic Leveling System (Boom or Jib Use)
• USA Federal Bridge Legal Final Weight on a Tridem-Axle Chassis for Convenient Rental and Transport Between Job Sites.
For more than sixty-five years, Elliott Equipment Company has created best-in-class solutions for lifting loads and positioning people. Elliott manufactures over fifty models of truck-mounted cranes, aerial work platforms, and digger derricks with dozens of custom features and options. For more information, visit www.elliottequip.com.