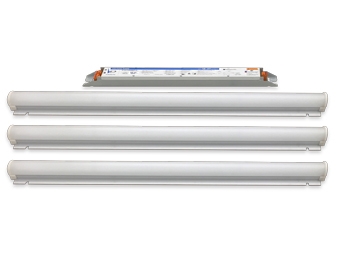 Universal Lighting Technologies, Inc., a global leader in lighting and a member of the Panasonic Group, recently announced they will expand the product warranty period on its top-performing EVERLINE LED Retrofit Kit. Formerly backed by a five-year product warranty, the LED Retrofit Kit will now offer a seven-year limited warranty as a result of the product's quality performance and reliability.
"Our LED Retrofit Kit has exceeded expectations in terms of dependability and performance," said Stephanie Boyle, LED Fixtures product manager for Universal Lighting Technologies. "The new seven-year warranty just further demonstrates the company's confidence in our reliable North American manufacturing process."
Universal Lighting Technologies has been at the forefront of lighting for nearly seven decades and their control manufacturing experience paired with Panasonic's technology has opened the door for the company with new LED replacement products like the EVERLINE Retrofit Kit.
"Universal is committed to reliability of our products, high levels of availability and excellence in customer service," stated Boyle. "We will also continue to offer the widest range of conventional ballasts available on the market as we continue to expand our family of cutting-edge LED EVERLINE Modules, Drivers, and Fixtures."
The EVERLINE LED Retrofit Kit simplifies the transition from fluorescent to LED, reducing electrical demand and energy consumption compared to conventional fluorescent lighting systems. Available in two- or four-foot kits, the product consists of either two or three LED-lensed modules, one LED driver, and a harness packaged together with replacement instructions.
"Universal has made it easy to upgrade from fluorescent to LED, to qualify for available rebates and save energy," stated Boyle. "All EVERLINE LED Retrofit Kits are DesignLights Consortium (DLC) Listed and have a 140,000 hour rating at L70, drastically reducing maintenance costs."
The new warranty will support fluorescent-to-LED conversions by reinforcing product manufacturing reliability and assuring a long product lifespan.
For more information on the EVERLINE LED Retrofit Kit, including an Installation Video, please visit http://www.unvlt.com.