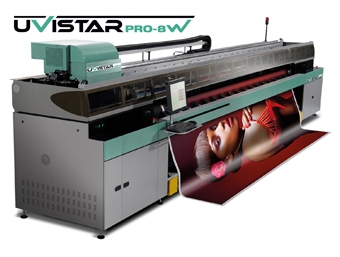 FUJIFILM North America Corporation, Graphic Systems Division further demonstrated their wide format inkjet technology leadership at the recent SGIA Expo 2014 in Las Vegas. A record number of attendees visited the Fujifilm booth to experience live demonstrations of the all-new Inca Onset R40i and the Acuity F, each making their North American debut on the show floor, along with the Uvistar Pro-8W (pictured), the Acuity Advance Select, and the Acuity LED 1600.
Additionally workflow solutions were featured, including Fujifilm's edition of ColorGATE's Production Server 8 (PS8) along with Pressero, by Aleyant Systems.
Attendance at SGIA Expo 2014 was at an all-time high, with more than 22,000 registered industry professionals.
Fujifilm's global reach included customers from across the US, Canada, and Mexico, as well as attendees from Latin America, Australia, Bermuda, Guatemala, India, Indonesia, and the United Kingdom.
"The SGIA Expo offers us opportunities to meet with current customers and develop new customer relationships," said Todd Zimmerman, senior VP and general manager, FUJIFILM North America Corporation, Graphic Systems Division. "Our relationships with customers help us better understand their evolving needs and ultimately drive our product development efforts. We are proud to be a Platinum sponsor of the SGIA Expo, and launch our innovative new products and technologies on the show floor at SGIA."
Fujifilm once again was also a sponsor of the 'Sustainability Zone' on the show floor, and Terry Mitchell, VP Marketing, FUJIFILM North America Corporation, Graphic Systems Division, spoke about innovative solutions to minimize environmental impacts. Attendees at this presentation learned about Fujifilm's waste-reduction initiatives and eco-friendly dedication to sustainability. Fujifilm also donated a digital camera for the 'Sustainability Zone' door prize drawing.
"We found the show floor to be filled with customers and prospects eager to learn about our new products and how the latest innovations in inkjet could help them improve their ability to serve their customers," said Mitchell. "The attendees at SGIA Expo were very positive about investing in new technologies. I expect our all-new Chicago Technology Center will be very busy in the coming months with equipment and software demonstrations as a direct result of our exhibition at the SGIA Expo."
To find out how Fujifilm Graphic Systems can help your business meet future challenges, improve quality and reduce costs, please visit: www.fujifilmgraphics.com.
To learn more about Aleyant Systems, please visit: www.aleyant.com.
To learn more about SGIA Expo, please visit: www.sgia.org/expo.