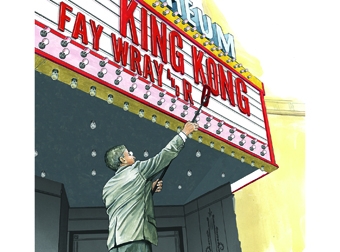 Gemini Incorporated has announced the winners of two specially framed-and-matted illustrations that pay tribute to the signage and recognition industry as part of the company's fiftieth anniversary celebration in 2013.
M & J Sign & Manufacturing Company of Albuquerque, New Mexico, and Perfect Image Sign of Rice Lake, Wisconsin, were each awarded an original piece or artwork by illustrator and graphic designer Rick Kollath. The artwork appeared in Gemini's fiftieth anniversary catalog published earlier this year.
M & J Sign and Perfect Image Sign were among Gemini sign and recognition customers who completed and returned the company's annual letter survey. Those returning the survey were eligible to win the illustrations. The wining names were drawn at random by Gemini President Fred Oss.
"We are very pleased with the response we have received to the design of our latest catalog—particularly the illustrations done by Rick Kollath," Oss said after picking the winners. "The finished pieces were outstanding and I'm sure they're going to look fabulous wherever our winners decide to display them."
Founded in 1963, Gemini is one of the world's leading manufacturers of dimensional letters, logos and plaques for the sign and recognition industries. To mark this important milestone, Gemini commissioned renowned artist Rick Kollath to design twelve unique pieces of art that show how the company's various products have been used throughout history. The illustrations are featured throughout Gemini's fiftieth anniversary price list.
Kollath, whose twenty-year career began with illustrations for Aerostich Riderwear, gained national recognition with his work for the Duluth Trading Company. The highly original and creative artwork often used famous figures like Napoleon and George Washington as "models" wearing Duluth Trading Company clothing. Kollath's illustrations, which range from the iconic to nostalgic, are done in a gouache (an opaque watercolor), pen and ink style.
For more information about Gemini Incorporated, call 800/538-8377 or visit www.signletters.com.