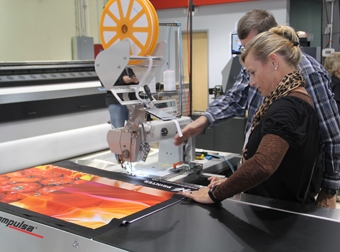 Global Imaging hosted more than sixty key industry leaders, manufacturers' reps and owners of some of the nation's largest and smaller printing companies at its recent Workflow Studio VIP event focused specifically on digital textile printing, from file prep to cutting and sewing.
According to a 2014 InfoTrends report, 81 percent of the respondents named textiles as their number one growth opportunity for wide and grand format applications. Recognizing this quickly growing market space and dynamic opportunity, Global Imaging continues to lead the way for its customers, into the digital textile print market with its lineup of innovative digital textile printers, cutters and finishing products. "This was our first ever, VIP Event dedicated exclusively to digital textile. We are committed to helping our customers understand and expand into this exciting market," said Tara Lamb, president of Global Imaging. "Bringing customers and prospective customers to our Workflow Studio to see the entire process, from prepress to finishing, is a great opportunity for hands-on experience and personally addressing their questions and concerns."
"It was incredibly valuable to have a comprehensive look and thorough education covering where the industry trends are pointing and how textiles fit into the mix. As newcomers to dye sublimation equipment and installation, everything we saw and experienced gave clarity to the picture and our potential for making an investment into that market," noted Jeanne Dolan, owner and vice president of Dolan Printing in Minneapolis.
Demonstrations of top-of-the-line products and the latest innovations in printing technologies occurred throughout the day, including PrinterEvolution's best-in-class, dye sub digital textile printer, Evo33 DS, the pioneering commercial Neo 64 DS water-based turnkey dye sub printer with onboard sublimation unit and the industrialized version Eos126 DS with onboard sublimation unit. A surprising highlight of the event was the Impulsa Synchromatic ECO industrial sewing machine.
"More people are finding that sewing is an important part of the entire process when it comes to fabric printing, and having that skillset and capability in their shop can be a competitive edge. So we had many attendees who were interested in and impressed with this particular piece of equipment," Lamb said.
Other featured products included the Monti Antonio Calender, the Zünd G3 flatbed cutter and REXframe reusable textile aluminum display systems with silicon edge graphics. All of these products will be showcased at Global Imaging's booth #3413 at the SGIA Expo in October.
The day-long event also included a series of presentations on equipment advances, digital textile printing and fabric trends, finishing and workflow automation.
The next Workflow Studio VIP event will be held in March 2015 and three more are planned for the year. Interested candidates should contact Global Imaging at 1.800-787.9801.