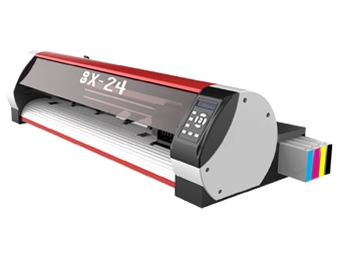 Graphics One, LLC (GO), an international distributor dedicated to providing innovative, high-quality products to digital imaging professionals worldwide is launching the integrated GO X-24 Printer/Cutter unit. Offering an all-in-one print and cut solution, the twenty-four-inch unit offers standard sized imaging with the lowest operating costs of any integrated print and cut system in the market.
With speeds up to 60 sq. ft./hour along with flexible color offering of four or eight colors and the ability to print up to 1440-dpi easily meet market demands. Combine this with the integrated contour cutter, the X-24 all-in-one unit is perfect for those needing a multi-use system for a variety of applications.
According to Christian Sam, GO Marketing, "The twenty-four-inch size allows a user to take advantage of standard sized media for both textile transfers and signage. Additionally our X-24 offers excellent value with a list price of $9,495 for the device, along with our eco-solvent ink at $39 per 220 cc cartridge."
Further Sam stated, "Our focus on providing the best operating value along with being able to use standard size media makes this a compelling offering."
The GO X-24 is flexible for desktop or can be mounted on the included stand. The system includes the printer/cutter unit, FlexiSign RIP, stand, and four 220cc CMYK eco-solvent ink cartridges.
The unit will make its first appearance at ISA in Orlando, Florida from April 24-26, 2014 and will commence shipping shortly thereafter.