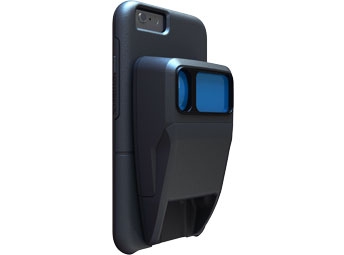 ikeGPS announces a partnership with OtterBox, the No. 1 selling case smartphone case in the U.S., to deliver a new version of Spike for the uniVERSE Case System. Spike, a laser measuring solution for site surveys and estimates, offers sign and digital graphics professionals an improved out-of-box and user experience as part of the modular protective ecosystem developed by OtterBox.*
The new version of the Spike device is designed to integrate with the OtterBox uniVERSE case for iPhones and iPads. The cases feature a slotted rail that allows users to attach Spike interchangeably to an iPhone or iPad without removing the case, making it quicker and easier to attach Spike in the field.
"Spike is all about simplifying the measurement process, so with that philosophy in mind, we're always looking to improve the Spike experience for our customers," says Glenn Milnes, CEO of ikeGPS. "Spike for uniVERSE makes using Spike a faster and easier solution in the field."
Spike allows sign and digital graphics professionals to quickly capture measurements for estimates of the width, height and area of signage locations from a smartphone or tablet picture and the Spike device. A ladder, bucket truck and tape measure are no longer required to conduct site surveys and create estimates, saving sign companies time and overhead costs on a traditionally lengthy process.
The measurements of the sign or graphic location are saved with the Spike photo and can be shared with customers, designers or production team to create job estimates and design proofs, assess installation and complete permit applications. If additional measurements are needed, users can refer to their saved Spike photos at any time to make modifications using the Spike mobile app or Spike Cloud. There's no need to return to the site for further measurements or estimations.
For more information, the Spike for uniVERSE product will be on display at the ISA Sign Expo in Las Vegas April 20-22 in booth 3800.
* Source: The NPD Group/Retail Tracking Service: Cell Phone Device Protection/Units Sold 1/2012 – 7/2016