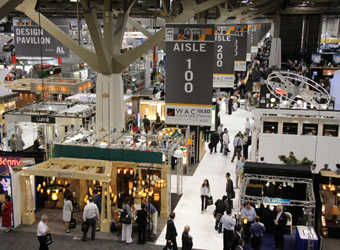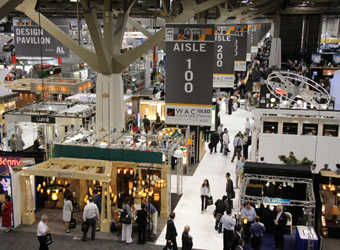 The New Exhibitor Pavilion is set to showcase first-time exhibitors from around the globe in its 2012 debut at LIGHTFAIR International (LFI), the world's largest annual architectural and commercial lighting trade show and conference, which opens May 9 at the Las Vegas Convention Center in Las Vegas.
The Pavilion, newest in LIGHTFAIR's growing stable of featured collections, creates a unique assemblage of exhibitors new to the LFI stage and featuring products and technological advances targeted to the architectural and lighting design industry.
"LIGHTFAIR International is the global showcase for lighting innovations," said Rochelle Burt, CEM, vice president of LIGHTFAIR International. "Our LIGHTFAIR 2012 attendees and exhibitors will experience first-hand the cutting-edge technologies, products and educational offerings that define lighting design and integrated solutions for the industry for years to come."
To accompany the New Exhibitor Pavilion, attendees can participate in the first-ever Passport Program by visiting specific first-time exhibitors in the New Exhibitor Pavilion and enter the daily raffles for a chance to win the new iPad® and/or grand prize, a MacBook® Pro.
In addition to exhibitors in the New Exhibitor Pavilion, there will be first-time exhibitors located throughout the entire trade show floor.
For a complete list of all 475+ exhibitors that will span more than 200,000 net square feet at LIGHTFAIR International 2012, visit www.lightfair.com.
In addition to the New Exhibitor Pavilion, LFI features four additional unique pavilions, each with an impressive list of exhibitors:
Building Integration Pavilion: Launched at the 2010 show to address one of the industry's biggest "hot-button" topics; features companies displaying solutions and products used to maximize and create energy-efficient buildings, and spotlights building integration's most successful projects.
Daylighting Pavilion: Focuses on architectural daylighting, daylight harvesting, energy efficiency and conservation, solar shading and natural light. It's the perfect venue to learn more about pioneering, sustainable solutions.
Design Pavilion: Showcases modern and classic decorative lighting with high-style products that will inspire.
Global Light + Design Pavilion: Presents the world's finest decorative lighting designs from internationally recognized manufacturers based outside the U.S.
LIGHTFAIR International 2012 will feature a large variety of networking and special events giving attendees additional opportunities to join like-minded professionals from around the world in sharing ideas, promoting new thinking and finding inspiration. Attendees are encouraged to attend the new Welcome Reception on Wednesday, May 9, 5:00-6:00pm; Cocktail Hour on Thursday, May 10, 4:30-5:30pm; and other valuable networking events while attending LFI. The full list of networking and special events can be found at www.lightfair.com.
Networking lounges are located throughout the trade show floor:
LFI Innovation Awards® Lounge (Booth 3927): A visual presentation of the LFI Innovation Awards® winners. See the best in innovative design and technology on display in this unique lounge.
Spotlight Lounge (Booth 6746): The location for the IES & IALD Gallery of Awards, Show Keynote, Media Panel and daily raffles.
LFI Cyber Café (Booth 633): Connect and get connected in the show sponsored lounge.
Lighting Education Lounge (Booth 6525): The meeting place for students, educators and all supporters of lighting education.
Light Lounge (Booth 5519)
Design Lounge (Booth 2240): Sponsored by ARCHITECTURAL LIGHTING Magazine
Building Integration Lounge (Booth 6311)
Global Light + Design Lounge (Booth 2130)
This year, the enhanced LFI® Mobile App offers seamless integration with registration, assistance to easily navigate the trade show floor and personal customizations. Download the Mobile App now at m.lightfair.com.
The LIGHTFAIR Daylighting Institute® and the LIGHTFAIR Institute® take place as part of the Pre-Conference program on Monday, May 7 – Tuesday, May 8, 2012 and the LFI Trade Show and Conference will run Wednesday, May 9 – Friday, May 11, 2012. For more information about LIGHTFAIR International, please visit www.lightfair.com.