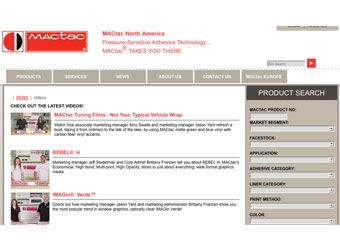 To ensure customers have convenient access and easy-to-understand product information, MACtac® Distributor Products announces the launch of its new online video library. Designed to educate customers and offer an inside look at some of MACtac's most innovative products and applications, the video library is available 24/7 from computers and mobile devices.
With the success of both the installer driven Web site www.theapplicationnation.com and the industry's first graphics mobile app DesignScape3D™, the video library is another visual education resource for customers seeking out learning opportunities and information. It offers quick access to possible uses and tips and tricks for any project while promoting proper product use and providing application inspiration.
"The new video library provides short, entertaining and informative snapshots of the unique and cool ways our customers can use MACtac products for all of their application needs," said Amy Swaile, associate marketing manager, MACtac. "MACtac has always been at the forefront of innovation and technology, and our video library is another example of how we continuously strive to educate the market and our customers through easy-to-use tools."
The video library can be accessed from a smartphone, tablet or computer by visiting www.mactac.com/videos. New content will be launched on a monthly basis.
A current listing of videos includes:
MACmark® Tuning Films
REBEL® H
IMAGin® Verde™
wallCHALKER™
PERMACOLOR® HORIZon™