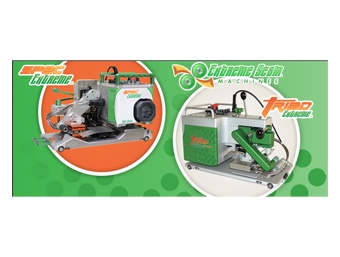 Miller Weldmaster announces the unveiling of two new, portable welder lines: the Triad Extreme Wedge Welder and the Spec Wedge Welder. These innovations are designed to strengthen production with their smaller size, portability, and efficient production features.
The Triad Extreme Wedge Welder is used for bonding thermoplastic textiles. It is available in four models: Triad Extreme Universal, Triad Extreme Shelter, Triad Extreme Cover, and Triad Extreme Awning. Stationary or automated travel-on-track features allow for easy, hands-free operation. Changeable attachments enable different seam configurations for a wide array of finishing demands. The Triad Extreme Wedge Welder also operates noise-free and has a patented, self-centered wedge for accurate product placement.
The Spec Wedge Welder is designed for completing a particular weld style. It can function as a stationary unit or an automated, on-track solution for welding long seams. The welder is available in three models Spec Extreme Overlap, Spec Extreme Hem, and Spec Extreme Keder. It offers three configurations, and it can produce seam widths of 25mm, 8mm, or 50mm for different finishing demands. The Spec Wedge Welder provides a high-speed option for faster production times, and a unique material guide system comes with each machine.
Miller Weldmaster offers these welding solutions for facilities with smaller production spaces. Both machine lines are available in 110V or 230V.
For more information, visit www.weldmaster.com.