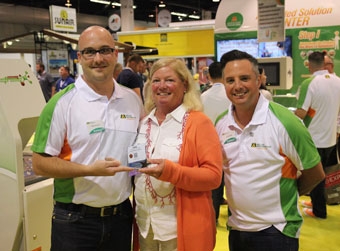 Miller Weldmaster recently showcased at the IFAI Expo 2015, which took place on October 6-9, 2015 in Anaheim, California. At the event, the company showcased its new T300 Waterproof Plus and its value for increasing the water-tightness of previously-sewn seams. This year's expo featured strong participation, with over 5,500 attendees and over 375 vendors filling the space of the Anaheim Convention Center.
For its T300 Waterproof Plus system, Miller Weldmaster received an IFAI ShowStoppers Award. ShowStoppers is an event competition created "to recognize the best of the best on the show floor" and to help elevate industry standards to a new level. Each year, the competition features entries which are revolutionary in design or are improved applications.
The T300 Waterproof Plus is a synchronized taping application system which builds on Miller Weldmaster's popular T300 Extreme system. As an automated taping solution, the system enables efficient waterproofing of sewn seams. Its automated features allow for easy, one-man operation. With these high-performance seaming capabilities, the T300 Waterproof Plus is an ideal solution for high-end outdoor products, military applications, and advanced technical textiles.