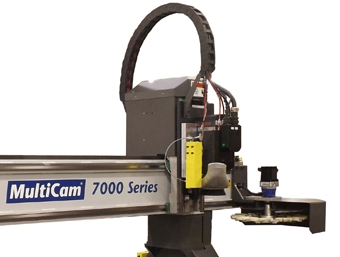 The 7000 Series from MultiCam, first introduced in 2008, offers a powerful cutting solution for heavy-duty production machining. It is a versatile machine beneficial for cutting a wide-range of materials for a number of different applications and industries.
The 7000 Series features high-torque digital AC servo drives and a 24 horsepower spindle that can easily cut through wood, plastics, non-ferrous metals, composite materials and more.
The 7000 Series is equipped with many standard features including a user friendly operator interface, automatic tool calibration, high-speed three-axis controller, rapid traverse of 3000 IPM, and a repeatability accuracy of plus or minus one thousandth of an inch. This router is built tough with an all-steel, stress-relieved plate frame design that provides vibration-free cutting. In addition to its standard features, the 7000 Series can be customized to meet the customer's unique manufacturing requirements.