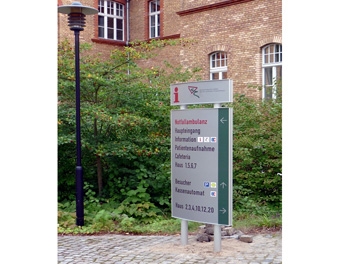 Vista System International, a world leader in Modular Curved Frame Technology (MCFT), recently supplied its versatile, multifunctional, exterior signage solutions to Krausch Orientierungs Systeme for installation at the Barmin Clinic, part of the Werner Forssmann Hospital in the city of Barmin, near Berlin, Germany.
The client required an eye-catching and durable exterior sign solutions that will be easily installed and handled by hospital maintenance staff. Most signs had to be very large, yet elegant to complement the design of the surrounding buildings.
Vista System's modernly designed and easy to install exterior signage solutions were chosen by the customer over the alternatives offered.
Among the thirty different signs that were supplied for this project were wall frames, posts-and-panel signs, and Illuminated double-sided pylons.
The entire project was installed within six weeks to the full satisfaction of the client.
For more information, email [email protected] or visit www.vistasystem.com.