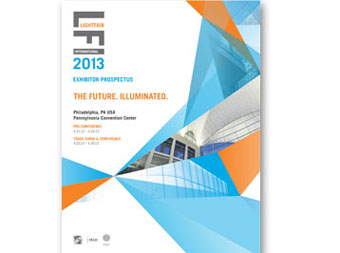 New education offerings will enhance and expand the LIGHTFAIR® International (LFI®) 2013 LIGHTFAIR Institute® and Conference program, which will present more than one hundred industry experts as speakers during LFI's five-day run at the Pennsylvania Convention Center in Philadelphia April 21-25, 2013.
The LIGHTFAIR Institute offers in-depth courses on selected topics that are focused on a particular field within lighting. The one-day and two-day immersion courses and three-hour workshops range from beginner to advanced and are led by top industry experts.
The 2013 program will present 66 course offerings—totaling more than 200 hours with AIA, ASLA, BOMI, IDCEC, IES and NCQLP accreditation—offered in the Pre-Conference LIGHTFAIR Institute® and the 3-day Conference.
Also new this year, the Conference now features three-hour workshops offered parallel to the tradeshow in addition to its seminars and the workshops offered in the LIGHTFAIR Institute:
+ Light Source Basics
+ Daylighting in High-Performance Schools
+ What's New in Lamps and Ballasts: Light Source Update
+ The New World of Roadway Lighting Design
+ Lighting Retrofits: A Better Option Now than Ever Before
In addition to adding conference workshops and increasing the number of course tracks to 15, the Conference program for 2013 has added the following:
+ New topics and updates
+ Lunch & Learn seminar on managing LED luminaire costs
+ Interactive Daylighting Charrette
+ Seminar offered in Spanish for the first time
+ Course on solar lighting to complement the new tradeshow product category
+ New Exterior & Roadway Lighting track to complement the new Exterior & Roadway Lighting Pavilion on the tradeshow floor
+ Final conference workshop taking place in the afternoon on the last day of the tradeshow
Attendees can select a combination of courses that best fits their educational interests with any of the conference packages. They can choose the new five-day Full Conference Package which covers all Institute and Conference days, or they can build a three-day Conference Package and two-day Institute Package. Courses, workshops and seminars can also be selected individually.
All Conference information can be found on the LIGHTFAIR Web site at http://www.lightfair.com/lightfair/V40/index.cvn?id=10266.