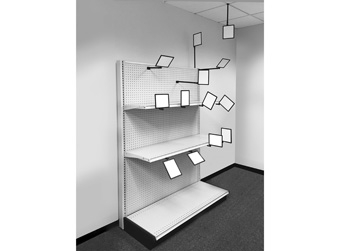 OSI Creative, a leading provider of global supply chain managed solutions for point-of-purchase displays (POP), consumer product packaging and branded merchandise programs, today introduced Shelf Stalker™ Flex, the latest addition to its successful line of Shelf Stalker POP products for in-store marketing. Shelf Stalker Flex easily attaches to shelves in almost any configuration to grab consumer attention in big-box stores, convenience stores, food retailers and other locations.
Shelf Stalker Flex features a standard 5-1/2-inch-by-7-inch frame and a patented ball and socket, which offers full rotation for parallel, perpendicular or angled signage placed above or below the shelf. This versatile retail signage system also uses a patented slide socket to allow for portrait or landscape installations. The 90-degree elbow joint attaches the frame to any metal shelving system using strong hold, rare-earth magnets. Shelf Stalker Flex also has an optional twelve-inch peg and rare-earth magnet extension arm that can be broken off in one-inch increments for even more configurations.
The customizable Shelf Stalker Flex frame can be molded in any color and can feature the company's logo, making it standout even more against the competition.
"The latest addition to the Shelf Stalker line, Shelf Stalker Flex is the most versatile retail signage system in the market. Its flexibility enables retailers to increase sales through stand-out graphics that direct customers right to the product, even in crowded aisles," said Joe Baksha, President and CEO of OSI. "Shelf Stalker Flex communicates to consumers right on the shelf front and is ideal for promotions, incentives or to highlight a specific product."
In addition to the new Shelf Stalker Flex, the POPAI award-winning Shelf Stalker product family includes:
Shelf Stalker™ Xtend—The original aisle violator that easily adheres to store shelves right out of the box without any hardware! Shelf Stalker Xtend is available in three different styles and sizes.
Shelf Stalker™ LED—The motion-activated visual solution at retail. Shelf Stalker LED features motion-activated RF sensor technology that lights up your ad as customers walk by.
Shelf Stalker™ Flash—The flashing sign incorporates a battery-powered, flashing LED light positioned between double-sided graphic displays to grab customers' attention like never before.
To learn more about Shelf Stalker Flex, as well as Shelf Stalker Xtend, LED and Flash, please visit: http://www.osicreative.com/retail_solutions/.