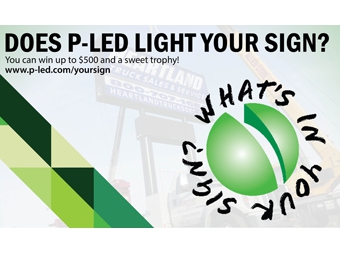 Principal LED invites sign owners, builders, and distributors using P-LED products to enter the 2017 P-LED "What's in Your Sign?" Photo Contest.
The grand prize is $500. Prizes for second place, $300, and third place, $200, will also be awarded. The entry deadline is October 27, and there is no limit to the number of entries contestants can submit.

"We love celebrating the art and ingenuity of the sign industry and are looking forward to another great contest," said Jessica Pirkle, VP Marketing at Principal LED. "The theme of this contest is 'What's in Your Sign?' and will promote the creative illumination solutions for all types of signs. We can't wait to see what our entrants will show us this time!"

Entries can be submitted on the company's website at www.p-led.com/whatsinyoursign, and the contest can be followed on its Facebook page.

Photos will be evaluated based on creative use of product and photographic quality. Entries must include which Principal LED products are used and a quote from someone involved in the sign project (owner, sign builder, distributor). The finalists will be voted on between October 30 – November 3 and the winner will be announced on November 6 via P-LED's Facebook page and website.