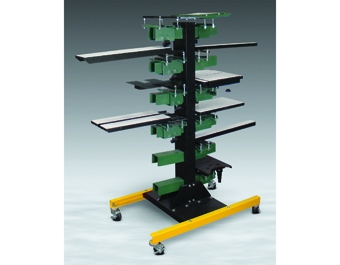 Vastex International has introduced a new VP-Cruiser Mobile Pallet Rack for organizing, storing, and relocating screen printing pallets, it was announced by Mark Vasilantone, president of the company.
Constructed of heavy-gauge carbon steel with durable industrial finish, it has a wide base with four casters, allowing pallets to be rolled to screen printing presses for rapid removal and insertion of pallets.
"The new rack eliminates walking to and from storage areas each time a pallet is removed and inserted, allows ergonomic cleaning of pallets off press, and consolidates pallets in one location with minimal usage of shop space," says Vasilantone.
The unit can be outfitted with up to twelve Model 11-02-005-0 holders for pallets of
V-2000HD series screen printing presses, or up to 18 Model 11-02-006-0 holders for pallets of V-1000 series screen printing presses, as well as pallets of other presses.
VP-Cruiser racks of either configuration can be assembled in less than one hour, and come with a one-year warranty.
The company offers over twenty types of pallets in a range of sizes for screen printing on tees, hoodies, long sleeves, pant legs, caps/brims, umbrellas, koozies, signage and hard goods.
Vastex also manufactures heavy-duty manual screen printing presses for starting shops to high-volume commercial printers, screen registration systems, infrared conveyor dryers, flash cure units, screen exposing units, screen drying cabinets, washout booths and complete screen printing shop systems, and offers a comprehensive range of training classes for entry level, intermediate and advanced screen printers.
For information contact Vastex International, Inc., at 800/482-7839 or www.vastex.com.