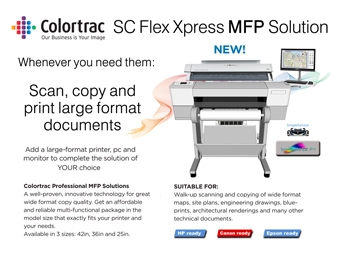 Paradigm Imaging Group, the North American distributor for Colortrac, Inc., announces the launch of a brand new MFP product solution: Colortrac SC Flex Xpress MFP Systems with SingleSensor technology with now even faster speeds. Adjustable height stand allows the Flex Xpress to be paired with all most any inkjet printer in a "single footprint" configuration.
Available in two basic configurations; the Flex Express BASE model provides the option for a user supplied PC or the Flex Express PRO model that includes a powerful Rocket ONE™ Controller with preloaded software.
Do you have an existing printer and are now considering adding a scanner to create a Multi-functional Copier/Scanning solution? Colortrac professional SC Flex Xpress systems will enable you to streamline your workflow and improve productivity by complementing your existing large format printer. Whenever you need it: scan, copy and print large format documents with Colortrac's SC Flex Xpress MFP Systems.
Available in three sizes (42-, 36-, and 25-inch), this product is an affordable and reliable multi-functional package that exactly fits your printer and your needs, while still giving you a quick return on investment.
The Colortrac SC Flex MFP Systems include the revolutionary new SmartLF SC Xpress scanners from Colortrac. With higher quality imaging, higher scanning speed, and SuperSpeed data transfer, the Colortrac SC Flex Xpress MFP Systems provide fast, high-quality scans or copies of wide format maps, site plans, engineering drawings, blueprints, architectural renderings, and many other technical documents.
The Colotrtrac SC Flex MFP systems come equipped with proven SingleSensor technology, a Colortrac invention that combines CIS elements and LEDs in a single line for maximum scan accuracy and optimal illumination. SingleSensor combines the best features of CCD and staggered CIS scanner design in a single-line sensor array that requires virtually no routine maintenance by users and provides exceptional color and dimensional accuracy at high-definition resolution at ultra-fast speeds. The new SC Flex Xpress MFP scanners are capable of speeds up to twelve inches per second in color and thirteen inches per second in black and white.
All the SC Flex Systems come equipped with market leading, innovative features:
* ScanOnce: Efficient scanning and copying workflow that gets it right the first time;
* Firefly: Colortrac's high-speed USB3 interface that allows you to get more done;
* Clearview: Innovative dual LED illumination that's low maintenance and has a low energy footprint;
* Winsync: Optimized Windows driver technology that allows you to easily connect Colortrac scanners to your PC;
* Powerful Rocket ONE Controller (PRO Model); and
* Single Footprint adjustable stand.
"The Flex is a representation of what Paradigm Imaging Group is all about – giving our customers viable and valuable choices. The ability to utilize the customer's existing equipment is a key component of the Flex Xpress System, and another example of our customer-driven philosophy," said Randy Geesman, president of Paradigm Imaging Group.