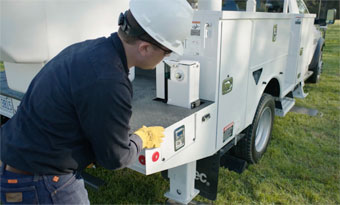 Creating a company culture of safety is extremely important in keeping aerial equipment operators safe. Safe workplaces blend good training, well thought-out work procedures, and robust communication between employees and safety leaders.
Hazards are always present on a job site, so it's up to the company to ensure their operators have the right tools and training to address these hazards.
These five questions are an excellent start in analyzing if you're doing everything you can to protect your number one asset and priority: your people.
1. Are my operators trained and qualified to use this piece of equipment?
According to ANSI A92.2, operators need two types of training before using aerial equipment—General Training and Familiarization. General Training covers general safety rules and operational safety topics, while Familiarization targets training on specific aerial devices.
Joe Coleman of Altec Sentry, which meets both General Training and Familiarization requirements and also includes personalized hands-on instruction, teaches classes specific to aerial equipment used for the lights and signs industry. "Aerial devices can differ widely, depending on manufacturer and model," he says. "Operators need specific unit training before they operate any unfamiliar device."
YESCO, a nationally known custom electric sign and lighting company, has implemented an excellent program to ensure operators that are servicing and installing signs are well trained to carry out safe work practices on an aerial device. Analyzing rental companies, online forums, and Altec Sentry, they modeled their training program after the top programs in the country. They identified similarities and then tailored instructions specific to the sign industry and the types of vehicles they use.
YESCO's training program covers similarities between all of the aerials they use, OSHA regulations, safe operating distances, work environments, etc. It also includes hands-on training where operators demonstrate and practice on the unit.
The training program also covers the generalities of all aerial equipment and then covers the specifics of different models. For example, YESCO would explain that ladder trucks and articulating aerials do not necessarily involve outriggers, so the criteria for setup would differ from a truck-mounted aerial device in that tire pressure would be specific.
For qualification, Michael McInerney, fleet manager at YESCO in Las Vegas, explained, "If an operator is well versed on a ladder truck, for example, but was then switched to an articulating aerial device, we'd set him aside and say, 'Okay, you are familiar with the written training that we talked about and the generalization of aerials, but now we want to look at this model number or specific truck and have a discussion about it and go through our checklist."
In addition, the YESCO crews hold weekly "Toolbox Meetings" to cover any questions, concerns, or issues involved with the aerial equipment.
2. Are my operators carrying out the safest work practices? Safe work practices take place after training when operators are out on the job.
Before the operator begins work, they must go through several checks and inspections to ensure safe operation:
Pre-start machine inspection to ensure the unit is safe to use before the operator drives to the job site;
Traveling to ensure operators are safe while venturing out to the job site and arriving at it;
Job site inspection to ensure operators are familiar with the work that will be performed and the environment in which it will be performed;
Pre-operational inspection to ensure the functions and controls of the equipment are working properly; and
Operation to ensure operators are using the truck in the safest way to perform the work.
In addition, operators must ensure they are using proper personal protective equipment and fall protection equipment per ANSI, OSHA, and their employer. Safe work practices should also emphasize minimum clearances from energized apparatus and lifting loads that do not exceed the unit's load capacity.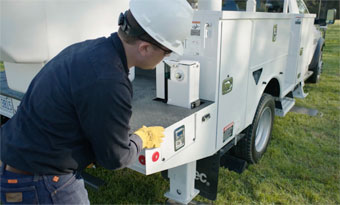 YESCO does a great job ensuring their operators are carrying out safe work practices by revisiting training quarterly.
With regards to inspecting the unit, YESCO's in-house maintenance and service group checks equipment on scheduled intervals. If the service team sees something wrong with the unit, they address it and consult the operator to see if he or she is aware of any issues with the unit. This keeps the trucks in a good state of repair. It works as a great check and balance of operators that are carrying out the proper pre-operational inspections to ensure the unit is safe for operation.
3. How am I helping to prevent on-the-job accidents? Proper training and safe work practices help operators address hazards that may arise during each job.
"Fall hazards, equipment stability concerns, and electrical hazards are very common issues on the job site," says Phil Doud of Altec Sentry. "It is crucial that operators use the correct fall protection equipment, stay outside minimum approach distances to energized conductors, and take time to properly set up the unit before every job."
Preventing accidents requires constant vigilance and communication between operators and supervisors. YESCO also holds a regular "Supervisor Meeting" to review any mishaps, changing regulations, or industry accident reports.
"We have built healthy, trusting relationships with our crews so operators will feel comfortable reporting accidents," says McInerney. "We want all YESCO associates to feel confident to speak up if there is a safety issue."
4. Are my operators using the right truck for the job? There are several factors that go into choosing the right equipment. Operating height, reach, and material handling load capacity are just a couple of the more important considerations.
For example, choosing a slightly larger unit with greater load capacity can give an extra margin of safety compared to using a smaller unit at its maximum capacity.
Buyers should also evaluate different manufacturers to decide which company offers the highest quality aerial device with the specific features that make the job easier and safer for their operators.
5. Is my maintenance program keeping my operators safe? If the company already has equipment in their fleet, it should be regularly serviced to ensure it is safe for operation.
If the company has developed a solid relationship with the crews, the service group will perform the required periodic servicing on the equipment. The operators will report deficiencies and request additional service work as needs arise.
"Our operators take pride in their work and jobs and want their equipment to be serviced immediately, if needed," says McInerney. "It is not about the money; it is about making sure we do not let anything fall through the cracks and then have something catastrophic or dangerous happen."
This not only keeps YESCO's operators safe but also enables them to fix small problems up front before they become larger issues months down the road.
By Rachel Abel, Altec, Inc., Marketing Communications.
All Photos: Altec.