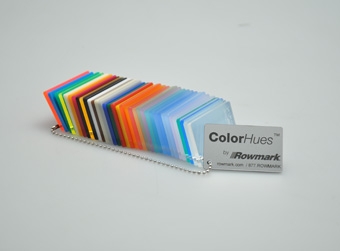 Rowmark LLC has expanded its highly popular ColorHues™ sign-making product line to include a 1/4-inch gauge sheet option, in response to Americans with Disability Act (ADA) and other demanding signage project trends within the industry.
In addition to Rowmark's ColorHues Clear and Clear Matte, popular colors including ColorHues White, Black, Wedgewood, Phantom, Poppy, Daffodil, Passion Fruit, Caribbean, and Kiwi are now available in a 1/4-inch gauge sheet option. Just like Rowmark's 1/8-inch ColorHues sheets in these colors, the 1/4-inch sheets feature a 100 percent ADA-compliant matte finish on one side and a gloss finish on one side.
While an increasing number of ADA projects are specifying 1/4-inch gauge acrylic, thicker acrylic sheets are also a popular choice for adding dimension, rigidity, and extra support for signage projects, dimensional P-O-P displays, flag signage, and more.
To learn more about Rowmark's ColorHues and explore the complete color palette, visit www.Rowmark.com.