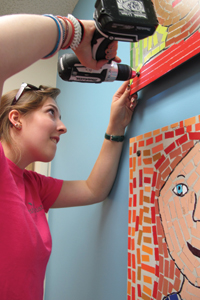 As fall begins, this might be a good time to think ahead to next year and if your business could benefit by bringing a college intern into your shop.
Typically run during summer break months (but doable year round), internships promise rewards to everyone involved.
For the student, it's an opportunity to gain practical workplace experience that many degree programs now require.
For the sign shop owner, it's a chance to give back while seeding a deeper understanding of this business for tomorrow's sign professionals and those who will work for them.
But never think of an internship as just cheap labor. "If you're [going into it with this mindset], it's not going to work," cautions Duane Laska, third-generation owner of North Shore Sign (www.northshoresigns.com) in Libertyville, Illinois.
As a board member of The Signage Foundation (www.thesignagefoundation.org), Laska played an instrumental role in developing the organization's internship program, a formalized first for this industry. "Our goal has been to give students an experience that will benefit the entire industry," he says.
A Practical Investment
Sign Foundation Executive Vice President Patty Herbin says the intent with this internship program is "to provide students who aren't necessarily headed for careers as sign producers with a practical grasp of this industry and how it operates."
To date, the organization has coordinated the program with the University of Cincinnati's Co-op program to place urban planning majors in two sign shops.
The Signage Foundation manages the program, qualifies host companies, and collaborates with them to develop an appropriate student experience. It also works with the academic institution to identify and place qualified candidates.
Guidelines require the host sign company to submit an evaluation of the student at the end of session, and then the intern must make a presentation about his/her experience.
Only three years into its launch, Herbin declares, "These internships have already proven a great venue to provide future urban planners a residual body of knowledge about how the sign industry operates and some of the challenges we face."
North Shore Signs actually hosted the program's first intern. Laska approached this endeavor as an opportunity "to take a student pursuing a career as an urban planner and give him or her a better perspective of the sign industry and what we do."
If successful, this opportunity could nurture these interns into ambassadors for the sign industry, eager to share positive experiences and perceptions with their fellow students and teachers.
"It's in response to The Signage Foundation's goals to try to affect better legislation in the future through a better understanding of our industry by creating positive relations with tomorrow's planners," says Laska.
An Adaptable Concept
An internship need not always be so structured or entail such long-range goals to be effective. In fact, an intern program can be anything the sign shop owner wants it to be—that is, within the confines of providing students academically acceptable practical experience.
At Colorado Signs & Graphics (www.coloradosigns.com) in Denver, Colorado, Owner Adam Rego has taken a less formal approach to the intern program. Five years out of college, he's extending the same kind of opportunities other business afforded him while he was a student.
Most of his student workers have been graphic design majors from area colleges who approached him about the possibility of interning there. "They get to do a little bit of everything, so they can see the whole process start to finish—from design to print production," he says, "something they can't get in school."
These short-term staffers, paid an hourly wage, work as needed in customer service, sales, design, production—every aspect of Colorado Signs except vehicle wrap installation. Rego says that specialty is too challenging and too critical to the company's reputation to entrust to anyone but a trained and experienced professional.
From the outset, Rego considers his shop's interns as a different type of team member. "When I hire someone, I expect them to have certain skills and experience, to show up on time, and to know what to do," he explains.
Working with interns, however, can require the business owner to be a little more forgiving and involved. "You have to put a lot of time into it, making sure they're busy and checking what they do before it goes to customers," says Rego.
Sally Land, a sign specialist at United Maier Signs (www.united-maier.com) in Cincinnati, agrees. "You always have to have someone oversee them and make sure they have work to do," she says.
According to Land, the only disruption can be right off the bat, when you have to have them shadow you all the time. "You have to be committed to dragging them everywhere with you for a while," she remarks, adding that it's still well rounded exposure that benefits the student, the host company, and ultimately, the entire industry.
Like Laska, Land has coordinated the internship through The Sign Foundation and the University of Cincinnati. "My company got involved because we're interested in developing relationships, which can help make the next generation of urban planners friendly to the sign industry," she says.
The same intern has worked at United Maier Signs for three sessions, gaining an insider's understanding of all aspects of the sign business. He's also taken on tasks that might otherwise be neglected.
Land assigned this intern a project to organize a spreadsheet of all information on obtaining permits by county and city for the tri-state area the company services. "It's something we didn't have the time or expertise to put together ourselves," she says. "He did a great job."
As part of his responsibilities, the intern at North Shore Sign also worked on obtaining permits. One case required writing an appeal to an appearance review board, explaining why they should allow a North Shore client to include a phone number on a new sign. The appeal was successful.
"He wouldn't have any idea of what's involved or what kind of challenges companies like ours face every day, without his experience as an intern," says Laska. "When we brought him on as an intern, we knew he wasn't going to stay.
"But we wanted him to leave with a better understanding of the sign industry."
On-the-Job Screening
An intern program can also provide shop managers with a non-committal way to screen potential employees.
For example, last year, Gordie Wolfe, owner of Majestic Sign Studio (www.majesticsignstudio.com) in Corona, California, approached a local college about bringing on an intern to help with marketing. The best candidate was enrolled in the school's design program, a plus. The internship guidelines stipulated the student would assist in the business for thirty days, part time, without pay.
"The good part was that, for those thirty days, there was no commitment on either of our parts," notes Wolfe. "I didn't feel any pressure that I had to make this work, as if I had hired a new employee."
The student proved herself an asset to the business, progressing from simple to more complex design work, then ramping up marketing efforts on social media. "We went from ten to twenty hours a week pretty quickly," says Wolfe. "She worked out so well after those thirty days that we offered her a part-time job."
In fact, Wolfe is thinking of hiring another intern with marketing experience. "It's a great way to give something back and give a student a chance to gain some experience that will help them," he explains.
When the internship program is successful, notes Wolfe, it can also be great for one's sign business. "You just have to be willing to be a little more flexible and work around a student's schedule, in order to make it work," he says.
By Mike Antoniak
Photos (top to bottom): Fresh Artists; Fresh Artists; Colorado Signs & Graphics.