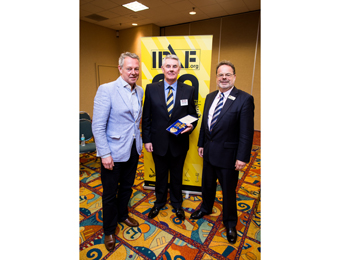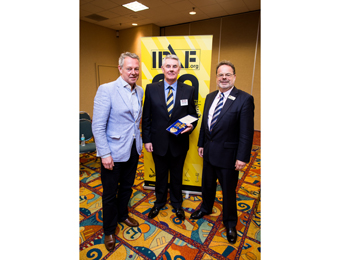 Steve Couling, managing director of TIME-Versalift, was elected as the new president of the International Powered Access Federation at the IPAF annual general meeting on March 26, 2013 in Miami. He succeeds Wayne Lawson of JLG. (Note: At the handover of the IPAF presidency (left to right): Outgoing IPAF president Wayne Lawson of JLG; new IPAF president Steve Couling of Versalift; and IPAF CEO Tim Whiteman.)
Andy Studdert, chairman & CEO of NES Rentals, was elected deputy president. Two new members were elected to the IPAF board of directors: Brad Boehler, president of Skyjack, and Nick Selley, group business development director of AFI-Uplift.
Couling outlined three goals for his two-year term as IPAF president: specialist training for the vehicle-mounted sector, online training programmes, and the creation of more IPAF country councils to enable regional forums for discussion and a local focus on issues important to those regions.
"The vehicle-mounted platform sector has further to go than most," he noted. "There is still a far too relaxed approach to specialist training needs in some regions. This is an area that I will be personally trying to address during my term as president."
With IPAF's recent launch of an eLearning module as part of the AWPT operator training programme in the US and Canada, Mr Couling said that this is an exciting arena that IPAF needs to be in from the outset: "There are clear opportunities for IPAF to use this medium to reach even the most reluctant of regions to accept and adopt safer working practices and professional training programmes."
In his incoming president's address, Mr Couling also paid tribute to outgoing IPAF president Wayne Lawson: "Wayne has been at the helm of the IPAF Board during a challenging period for IPAF and has been a very dedicated and professional chairman. A very hard act to follow!"
Steve Couling began his career in powered access in 1993, joining Simon Engineering. He initially sold Simon "Snorkel" platforms to fire brigades across Europe, then became general sales manager for Simon's fire, utility and self-propelled business. In 1998, he moved to one of the "big three" self-propelled machine manufacturers at the time, UpRight, and became vice-president of sales & marketing for Europe, Africa and the Middle East in 2002. In 2005, he returned to the vehicle-mounted side of the access industry and became managing director of TIME-Versalift based in the UK. He has been involved with IPAF since his early days at Simon Engineering as an active member of the IPAF Council and joined the IPAF Board of Directors five years ago.
Launching IPAF's thirtieth anniversary celebrations, Mr Couling said: "I intend to re-define our original core objectives to all members and to remind everyone that IPAF is a not-for-profit organisation. The original objectives of IPAF are still true and they still hold water: We want to ensure our industry is safe, safe for all users of powered access equipment. I look forward to working with IPAF CEO Tim Whiteman and the IPAF staff, and thank them for their hard work and loyalty. Without them, there is no IPAF."
For more details, visit www.ipaf.org.