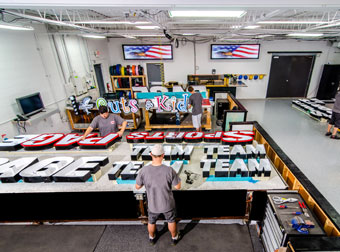 In our December 2013 issue, we included a sidebar called "Tips on Channel Letter Installs." Below is the expanded sidebar with content that didn't fit in the issue. Read on to find out all of Bob Chapa's advice on properly installing channel letters:
Channel letters are so ubiquitous in the sign landscape that it can be difficult to make sure your shop stands out in the market. But performing a flawless install the first time can be a good start.
Bob Chapa, owner of SIGNARAMA Troy in Michigan, has been a sign franchisee for over ten years, and his shop was one of the first locations nationally to begin fabricating channel letters in-house. "Part of our reason for investing in automated channel letter equipment was to grow the SIGNARAMA brand and help other SIGNARAMA locations around the Midwest and eventually all of the United States by building a wholesale division."
Today that wholesale division is a reality and it's called Channelletterwholesale.com. It ships channel letters nationwide, but its focus is on customer service. "It's more about the relationship. It's easy to say you can build the best set of channel letters out there, and there are a lot of really good fabricators, but we like to take the approach of helping the stores sell these jobs," says Chapa. "Because we came from the sign industry, we know all those things that could go wrong—everything that can happen on the sign shop's side."
Chapa takes his sign experience and offers some advice on successful channel letter installs. First, a proper site survey is necessary. He suggests using a checklist, which should include questions like:
1. Is it a raceway or flush-mount channel letter install?
2. What is the wall material the sign is being installed on?
This is the biggest variable on the install and some surfaces are more problematic than others. Chapa notes drivet/stucco is especially challenging, and that according to code, it must contain a ½-inch thick plywood backer on which the letters can be attached. "If you don't properly attach your raceway or your flush-mount channel letters to that wood backer, there's a really good chance that they're going to be falling out after six-ten months," says Chapa. "Some people just try to screw right into stucco assuming that it will work and that material is really not made for it."
3. How are you getting electrical service to the letters?
You should always have an answer to this question before starting an install. "[Electrical service is] usually through the backside of the wall and most people think that that's just the easy way, but you have to be able to get up to the wall to do the proper wiring," says Chapa.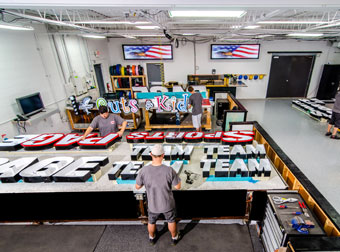 During the survey, also be sure to take accurate, precise measurements. Chapa recommends using the app My Measures & Dimensions Pro, which allows installers to take photos of a job site and input the measurements right on the app. "I have hundreds of surveys all stored on my app," he says. "I never have to look for them—I always know where they're at."
Once onsite for installation, Chapa says one of the mistakes shops make isn't in the method of installation—it's in the number of installers. "You have to have enough installers on the job site," he cautions. For a large job, he recommends at least three or four people so that everyone stays safe and is not performing too many tasks at once.
As for the actual installation, Chapa recommends using paper templates that won't fall down and which can be partly torn off as the drilling is done. He says heavier materials like coroplast can slide around and fall off—causing you to have to realign the entire template.
(Note: Templates also come into play in the sales phase of a channel letter job. Using an art template versus a basic, two-color one will set your shop apart. "We superimpose the sign right on a photo of the building to scale with shadows and lighting," says Chapa. "We show them what it will look like at night. That helps us to sell these jobs.")
Chapa also suggests keeping up with a client after the install. He does a follow-up call thirty days after installation to check in, and his shop also offers parts and labor warranties to extend the relationship.
In a saturated market, it's these customer service offerings that can differentiate your shop.
By Ashley Bray
Photos: ChannelLetterWholesale.com.