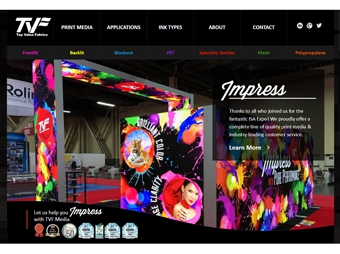 Top Value Fabrics announces the launch of its new Print Media Web site at TVFMedia.com. In addition to being fully responsive, the newly launched Web site adds an expanded series of product applications, as well as new pages including a "Talk to the President" page, a territory map, and detailed team pages.
"As we continue to expand our product lines, it's especially important that it's easy for our customers to click and view our products on the go—from any device," explains Karen Stuerenberg, Marketing Director for Top Value Fabrics.
Stuerenberg adds, "Our customers are busy and this newly refreshed Web site reflects our commitment to making it easy to do business with us. This new Web site is more than mobile-friendly; it's responsive for any device. This means the site adapts to each individual visitor's device, automatically formatting to provide the best, most efficient experience to each visitor."
"Our sales team enjoys discussing the technical aspects of our media, and we appreciate sharing in the excitement of our customers being able to make incredible projects happen for their customers. We consistently strive to offer top-of-market service, and this new Web site is a natural extension of that support," adds Jeff Nonte, Print Media Director for Top Value Fabrics.
The company has a comprehensive selection of Print Media product lines including Frontlit, Backlit, Blockout, PET, Specialty Textiles, Polypropylene, and Mesh. Website visitors can request information quickly from any product page throughout the site, contact individual sales consultants, and sign up for the company's Insiders email marketing newsletter.
"We're proud that the Top Value Fabrics team is known for providing outstanding customer service and quality products. Our newly refreshed Web site is a continuation of our strategic focus on Print Media," explains Chris Fredericks, President of Top Value Fabrics. Fredericks adds, "Our customers' success is our success, and our tremendous growth is only possible through such terrific customers and partners across the industry.
"We have great confidence in the industry, and our new Web site is a resource that will help us to support our customers' efforts even better."
To learn more, visit TVFMedia.com.