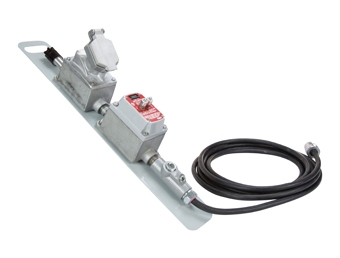 The EPEXC-P20A-GFCI-25 explosion proof extension cord from Larson Electronics is designed to extend the reach of equipment in hazardous locations where power receptacles are not in close proximity to the work space. This cord is fitted with a single 20 amp explosion proof twist lock receptacle constructed of non-sparking aluminum and finished with an epoxy powder coat.
An LED pilot light is attached to the top wiring hub of the receptacle to indicate current flowing through the receptacle. This unit also includes an inline GFCI reset and test switch to ensure proper operation.
The twenty-five-foot extension cord is terminated in an explosion proof straight blade plug to ensure safe connection throughout the hazardous work area. This unit is designed to withstand wet and corrosive conditions and incorporates a spring-loaded receptacle door to prevent ingress of water and contaminants when the unit is not in use.
This explosion proof extension cord is Class 1 Division 1 Groups C, D and Class 2 Division 1 Groups E, F, and G rated, making it ideal for use in hazardous locations where flammable gases and vapors are present. The cord is oil-, chemical-, and abrasion-resistant for durability, and the receptacle features deep recessed contacts for protection against arcing and a powder coat finish for resistance to corrosion.
This cord is perfect for connecting explosion proof lighting, fans, and blowers, and extending the range of portable power supplies and substations within the hazardous work area.
For more information, call 800/369-6671 or visit Larsonelectronics.com.