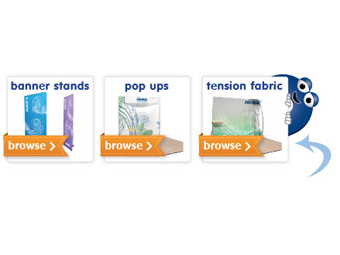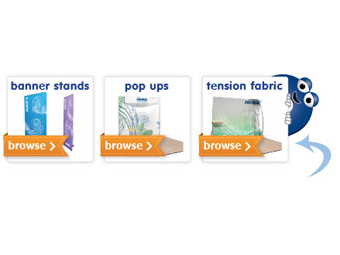 Nimlok has launched a contest on Nimlok Online, its new e-commerce Web site, which was introduced in early June.
Throughout September, customers will be encouraged to visit Nimlok Online at www.nimloktradeshowdisplays.com and navigate through the site to find "Nimmy," Nimlok's mascot, who is hidden in three product pages. The contest is designed to reward customers with prizes and discounts for exploring, browsing, and purchasing from the new online store.
All participants will automatically receive a 5 percent coupon off their next purchase on Nimlok Online. Additionally, participants will be entered into a random drawing to win one of three prizes:
1. $250 off any order of $1,500 or more
2. A free vinyl banner graphic with any banner stand purchase
3. A free literature rack (valued at $155) with orders of $250 or more
"With the busy trade show season approaching, we wanted to invite our clients to visit Nimlok Online; create a memorable, fun experience; and reward them for their time with discounts that can be used towards their next tradeshow exhibit," said Jen Bardon, E-commerce manager.
The contest runs from August 29 – September 30, 2012 and all are welcome to participate. Winners will be announced the week of October 3, 2012.
More information regarding the contest can be found at www.nimloktradeshowdisplays.com/find-nimmy.