With the recent job report from the U.S. Labor Department, announcing that only 235,000 jobs have been added versus the desired number of 720,000, the employment discussion continues to be top-of-mind.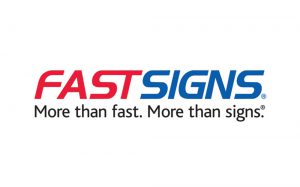 FASTSIGNS International, Inc., the leading sign, graphics, and visual communications franchise with more than 750 locations in eight countries worldwide, is seeking qualified talent to fill over 1,000 jobs available across the network.
To assist in recruitment and inform job seekers and provide opportunities, FASTSIGNS will host an informative webinar on October 1 at 11:00 AM CST titled, "Open Your Mind to a Career in Signs." The virtual event will share opportunities from the diverse sign industry that includes a variety of skill sets from consulting and designing to engineering, producing and installing.
"We are encouraging everyone–from people who have been working for many years to the next generation–to consider a career in the sign and graphics industry," said Catherine Monson, CEO at FASTSIGNS International, Inc. and Chair of the International Franchising Association. "There are many roles that incorporate collaboration, creativity and innovation within the visual communications field. Cutting-edge technology helps sign creators transform ideas into signs and graphics that make an impact in communities everywhere. We want to inspire others to be a part of that."
In partnership with the National Association of Manufacturers' Manufacturing Day, the International Sign Association promotes Sign Manufacturing Day every first Friday of October. On this day, companies in the visual communications industry encourage people to explore exciting and diverse career opportunities within the industry.
To learn more or to register for this informative event, please visit the event site.