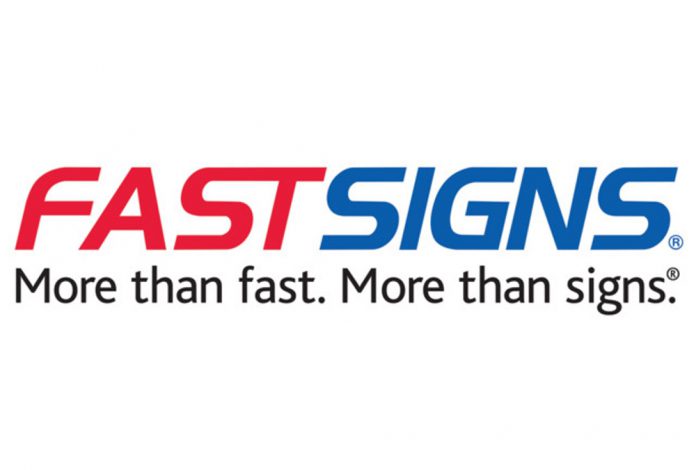 FASTSIGNS International, Inc., franchisor of FASTSIGNS®, the leading sign, graphics, and visual communications franchise, has announced that it has signed 32 franchise agreements so far in 2018 to develop new, co-branded, and conversion centers across the U.S. in cities such as Manhattan, Orlando, and Portland, Oregon. The company also signed agreements to develop centers internationally in Alberta, Canada, and the United Kingdom, in addition to a Master Franchise Agreement to expand the brand to Spain.
"To continue our leadership position as the top-ranked sign and graphics franchisor in the world, validation by franchisee signings at this pace is our greatest compliment," said Mark Jameson, EVP of Franchise Support and Development, FASTSIGNS International, Inc. "The brand continues to garner a strong image worldwide, contributing to our ability to grow in new and existing markets."
To continue this momentum, FASTSIGNS International will be attending and sponsoring Franchise Expo West taking place November 1-3, 2018, at the Los Angeles Convention Center to recruit qualified franchisees. FASTSIGNS has experienced strong growth throughout Southern California and sees more opportunity for expansion. Entrepreneurs are invited to meet with the brand's franchise development team at booth #306 to learn more about the FASTSIGNS franchise opportunity.
As part of the International Franchise Association's (IFA) VetFran program, FASTSIGNS offers veterans a 50 percent reduction on the franchise fee—a savings of $23,750. FASTSIGNS is thrilled to be the only franchisor in its segment to offer a development incentive specifically to veterans and first responders.
FASTSIGNS is projected to open over forty locations centers this year across the U.S. Internationally, FASTSIGNS is continuing to seek qualified candidates to grow its international footprint in target markets throughout the world, including New Zealand, Brazil, Quebec, North Africa, Southeast Asia, India, Europe, and Latin America.
FASTSIGNS International was ranked the #1 franchise opportunity in its category and 70 overall on Entrepreneur magazine's 2018 Franchise 500®, the world's first, best and most comprehensive franchise ranking. Acknowledged by entrepreneurs and franchisors as a top competitive tool of measurement, the Franchise 500® recognizes FASTSIGNS, the only sign, graphics, and visual communications franchise to be recognized in the top 100, for its exceptional performance in areas including financial strength and stability, growth rate, and brand power.
FASTSIGNS also has been recognized for its franchisee satisfaction by being named a World Class Franchise by the Franchise Research Institute for five consecutive years and has been ranked by Franchise Business Review as one of the "Best of the Best" for franchisee satisfaction for the last 10 years. Additionally, FASTSIGNS also was named to Franchise Business Review's "Innovative Franchises" list in 2017 and a "Best-in-Category" franchise by Franchise Business Review in 2018. The Canadian Franchise Association (CFA) recently recognized FASTSIGNS International, Inc. with a special six-year Franchisees' Choice designation for its strong relationship with Canadian franchisees, as well as extensive franchisee training and support.
For information about the FASTSIGNS franchise opportunity, contact Mark Jameson by emailing [email protected] or calling (214) 346-5679.