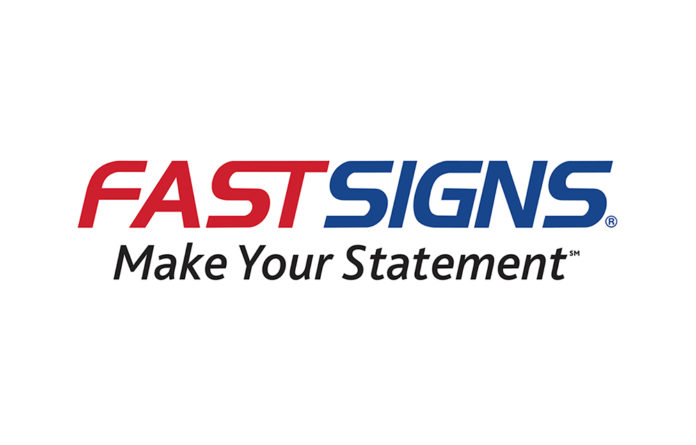 FASTSIGNS®, a leading sign, graphics and visual communications franchise in the nation, announced that it has been ranked the #1 franchise opportunity in its category in Entrepreneur's Franchise 500® for the seventh consecutive year. Recognized as an invaluable resource for potential franchisees, the Franchise 500® ranks FASTSIGNS as #62 overall for its outstanding performance in areas including unit growth, financial strength, stability, and brand power.
"After a year of record-breaking success for FASTSIGNS, receiving recognition as the #1 franchise opportunity for signage, graphics, and visual communication once again is a testament to the strength of our brand and the hard work of our franchisees," said Mark Jameson, chief development officer at Propelled Brands. "Demand for our services remains high and FASTSIGNS franchisees continue to be the go-to resource for visual communications in their communities. I look forward to seeing our momentum of growth continue this year by offering a variety of franchising options, from owning a franchise to adapting an existing sign business through a conversion or co-branding with a complementary business as we expand into new markets."
The recognition follows the brand's most successful year to date with FASTSIGNS building on a growing sales track record and surpassing $700 million in network sales for the first time in company history. FASTSIGNS has experienced strong growth and continues to expand the franchise network, awarding 20 franchises in 2022 to develop locations in markets such as Santa Clarita, California; Ocala, Florida; Gastonia, North Carolina; and Sioux City, Iowa. The impressive growth underscores FASTSIGNS' adaptability to a rapidly changing business environment and economy and the continued demand for signage and visual graphics making it a recession resistant business.
"FASTSIGNS has a broad range of products and services that are needed in all kinds of economic environments by a large variety of businesses and organizations," said Al Cothern, FASTSIGNS franchisee of West Palm Beach, Florida, who opened his first franchise during the previous recession in 2009. "FASTSIGNS helped me just by standing behind all the things they promised. The business model does work as they said it would, the marketing support is excellent, and the operational support provided by the business consultants is always there."
In Entrepreneur's continuing effort to best understand and evaluate the ever-changing franchise marketplace, the company's forty-four-year-old ranking formula continues to evolve as well. The editorial team researches and assesses several factors that go into the evaluation including costs and fees, size and growth, support, brand strength, and financial strength and stability. Each franchise is given a cumulative score based on an analysis of more than 150 data points, and the 500 franchises with the highest cumulative scores become the Franchise 500® in ranking order.
"The past year underscores the extraordinary opportunities that the franchising industry presents for entrepreneurs of all levels," says Entrepreneur editor in chief Jason Feifer. "The companies named to our 44th annual Franchise 500 list represent some of the most innovative, creative, and trusted brands across many industries and highlight what it takes to build the kind of momentum that drives long-lasting success."
The total investment for a FASTSIGNS franchise is approximately $233,555-$307,308 including a $49,750 franchise fee. Ideal candidates have a net worth of $300,000 of which $80K is liquid. Additionally FASTSIGNS offers a special incentive for veterans and first responders, including paramedics, emergency medical technicians, police officers, sheriffs and firefighters, which includes a 50 percent reduction on the franchise fee—a savings of $24,875.
FASTSIGNS is currently seeking qualified franchisees with an emphasis on existing businesses to co-brand or convert. Owners of sign businesses can convert the business into a FASTSIGNS center to benefit from the proven business model and support system or add a FASTSIGNS center to an existing business to receive training and support from the franchise system for just $15,000 down.
To date, FASTSIGNS operates more than 760 locations in 46 states and 8 countries. Of these FASTSIGNS franchisees, around 14 percent are veterans.
—Press Release