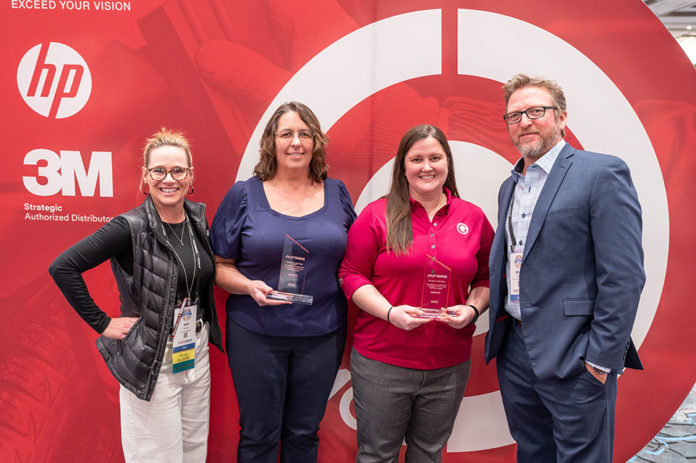 FASTSIGNS International, Inc., franchisor of FASTSIGNS®, the leading sign, graphics, and visual communications franchise with more than 765 locations in eight countries worldwide, presented the U.S. Vendor of the Year Award to Grimco, Inc., and the Canadian Vendor of the Year Award to Grimco and Spicers at the 2023 FASTSIGNS International Convention in Las Vegas, Nevada.
The FASTSIGNS Vendor of the Year is selected by FASTSIGNS franchisees and is based on the integrity of business practices, product quality, and having a long-term commitment to the FASTSIGNS network. Since 2015, Grimco has received this recognition. This also marks the third year for recognizing the Canadian Vendor of the Year.
"The FASTSIGNS Vendor of the Year Award for the US and Canada recognizes a supplier that delivers outstanding service and consistently provides excellent support to our franchisees," said Andrea Hohermuth, President of FASTSIGNS International, Inc. "We were thrilled to recognize Grimco and Spicers, and we truly appreciate all that they do for our franchise network."
For the past sixteen years, Grimco has been working with FASTSIGNS centers, supplying sign and graphics materials, products equipment and everything from signs and blanks to Digital Media and LEDs.
"We really appreciate the partnership with FASTSIGNS, and being named Vendor of the Year in the US and Canada is one of the highlights of the partnership," said Julie McClain, director of National Accounts at Grimco. "As the supply chain loosens up, our goal is to continue to provide excellent customer service, timely deliveries, and quality products at a competitive price. In 2023, we are also planning on offering new products with new training opportunities that will allow FASTSIGNS to grow with us in vertical markets. We look forward to continuing the partnership in years to come."
Spicers works closely with FASTSIGNS centers, supplying custom signs and visual solution materials and products. This includes specialty products, graphic solutions, sign & display equipment and materials, and packaging and facility supplies and equipment.
"We are honored to receive the Vendor of the Year award for Canada from FASTSIGNS as a Partner, delivering expertise and unparalleled support," said Hugues Piaud, Category Director- Graphic Solutions at Spicers. "We are highly focused on providing the FASTSIGNS network with high-quality equipment such as printers, laminators, and consumables, in addition to excellent service and maintenance for their printers from our skilled technicians.
"We truly value their partnership and business and enjoy serving their franchisees."
—Press Release